If you know anything about British media darling Cheryl Cole - is that she is now pregnant to her beau Liam Payne, if you notice though not
only how much Liam looks like her ex husband Jen Bernard Whatsisface... but how much the two men look like her, in fact, it wouldn't be that
hard to believe that they were all brothers and sisters.
This is because women find attractive in what they see in their own mirror, what they like in a man is what they see in themselves.
What does this mean.
It doesn't matter how many hollywood movies star Asian men in romantic parts, most white women aren't going to be attracted to Asian men.
It doesn't matter how great your hip-hop skills are in Europe, most white women aren't going to pull down their panties because you are black.
It is a myth that Asian women go ga-ga over white men - in fact if a white man gets any action it is despite their colour and is usually an attribute unrelated to colour or race (such as height, build or finances).
This is the truth as far as I have worked out, most women like men to look like them. If you are Asian, Hispanic, black or whatever - you are always going to be up against it when it comes to dating white women in a white country, because you know why? Most of them would prefer a white guy, even if they swear blind that colour 'wouldn't matter' because it does to most of them though they are too shithouse to admit it.
This took me a long time to realise, that a white woman might be left wing and have political views that support mixed race dating but most wouldn't partake - just in the same way that most liberal white women support gay marriage - doesn't mean they are going to become lesbians and date women.
Some folk were getting annoyed at Lindsay Vonn's picture the other day, I don't know why, she is allowed to like who she wants but she is a in a tiny minority of white women who could get any white man they want but rather not.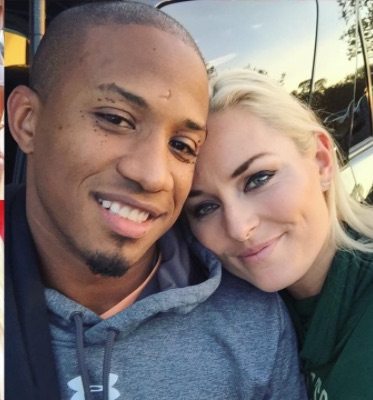 It is great that she has exercised a free choice and that she dates a man because that is what turns her lights on, but it has to be said that she is in a minority of white women (with choices) that would choose a chap of his complexion as a romantic partner.