America has a weight problem. We know that approximately 70% of the U.S. population is overweight, but this affects men and women about equally. This alone does not explain the 10:1 male:female ratio one can routinely find in America on a daily basis. Female preferences being more lenient towards male weight isn't a satisfying explanation either.
It has been pointed out that BMI is simply a function of weight and height, and does not necessarily indicate fatness. While it is safe to assume nearly 100% of high-BMI women are fat, men can have a high BMI but low body fat by building muscle. It is easily possible for a man to be considered "overweight" but have 5% body fat and be in perfect health. However, the occurrence of massive muscles in women is for all practical purposes nonexistent.
The question then becomes, what percentage of the overweight male population is fat, and what percentage merely has high muscle mass? For the sake of this discussion, let's assume 50% of overweight men are fat and 50% are muscular.
Consider a population of 100 women and 100 men. We know that 70 women and 70 men will be considered overweight, leaving 30 healthy women and 30 healthy men. However, if we assume 50% of the overweight men are actually muscular with low body fat, that gives us 30 healthy women and 65 healthy men, roughly a 2:1 male to female ratio.
It gets really interesting when people start pairing off. It's safe to say that at any given time, 90% of healthy women will not be single. They will be either married, dating someone, or be otherwise unavailable. The only truly single women are ones who just moved to a new city, but for the sake of this discussion let's say only 90% of healthy women are paired off. That means we subtract 27 healthy women, and the 27 healthy men they are paired with, leaving three healthy single women and 38 single healthy men, a
12:1 male to female ratio
.
Isn't that what we see in real life on a daily basis in America?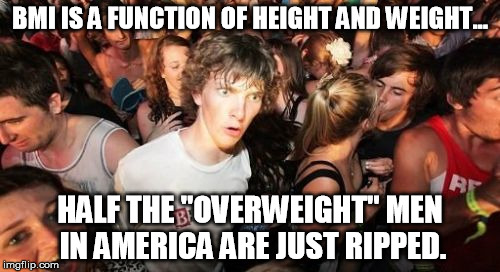 The next step is to determine the real male overweight rate, which could answer this question objectively and provide a solid explanation why dating in America seems so skewed.