You know, in this world, there are some things that are plainly obvious and as apparent as the blue sky, yet are too taboo and inappropriate to talk about them, and to do so would incur condemnation and ostracization from others. It's a kind of bizarro world, a form of the "Emperor's New Clothes", where everyone has to pretend to be blind to it. One example of this is the anti-sociality, isolationism, and dysfunctional nature of the social and dating scene of the US, which does not flow smoothly or naturally at all compared to most of the rest of the world.
People in the US are generally stuck up, noninclusive, cliquish, paranoid, and uptight about meeting new people or talking to strangers.
(An "ice barrier" exists between strangers in the US, hence the expression "break the ice") You are not supposed to complain about any of this, but are in fact expected to like it this way, just like everyone else does. Otherwise, you're a FREAK, loser and reject.
Here is a picture I've taken on a Seattle ferry which depicts this social isolationism in plain view.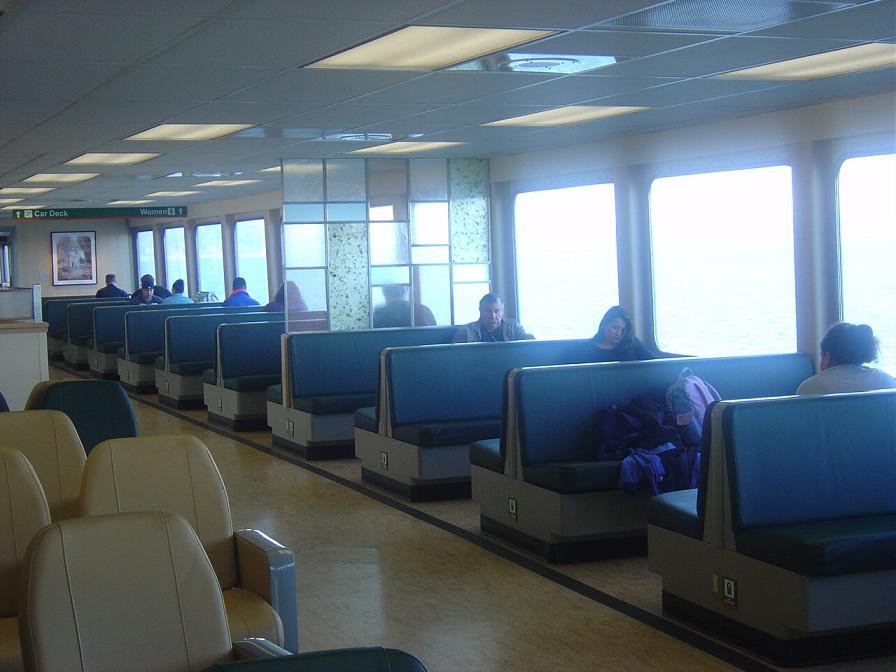 As you can see, isolationism is the norm in this scene, (as it is in most public scenes of the US) whereas socialization is not. No wonder why it's so hard to meet people in the US. You are "supposed" to enjoy being alone in public. If you don't, then there's something "wrong" with you. I could take an infinite number of photos in public places in America that depict the same thing of course, but you get the idea. The point is, though
this isolation and anti-sociality is as clear as night and day, which any average person can see, you aren't allowed to talk about it, or you would be seen as a social reject.
Now, normally it would be impolite to try to talk about something that people don't want to talk about. However,
this pattern of social isolationism that prevails in the US leads to suffering for many people, such as loneliness, datelessness, sexlessness, friendlessness, a feeling of disconnectedness rather than belonging, etc. all of which lead to depression, unhappiness, mental illness, and a lower quality of life.
Frankly, I don't think it's right to let so many people suffer endlessly like that simply because their suffering is a taboo subject. That's just cruel and messed up.
The truth is, very few lonely people in America have the guts to admit to their situation. But you can't blame them, because
in America it's a BIG SHAME as well as a loss of pride and dignity to admit that you are lonely, dateless, or friendless.
(I guess based on that, one could infer that I have no shame, but I like to think that my passion for the truth, as well as my anger toward injustice and a wasted life, is greater than my fear of shame.) As a result, many of them are in self denial and pretend not to need others. God knows how many are out there suffering silently.
Now, some are able to tolerate these anti-social conditions for long periods of time, or else they just go for years hiding their pain. But others, like me, have no tolerance for it, so we take ACTION to do something about it, even at the peril of venturing down unconventional paths that may be frowned upon by others.
Well I braved that risk, rather than living in fear and loneliness, and it paid off BIG TIME, far beyond what I could ever dream of.