So I've just come back from Mexico, and had a blast there for the past few weeks. I went all over the country by bus (camión / autobús) and met plenty of wonderful folks. This was a really long trip involving plenty of people and places, so I'll just share some experiences relevant to the issues discussed in this forum.
Except for the lighthouse picture of San Felipe, all of the photos below were personally taken by me.
1. SOME OBSERVATIONS
The people are incredibly friendly and easy to get to know. In the United States, although it isn't hard to be become
acquainted
with new people, it would be very difficult to actually get to know them on a much deeper and more personal level.
Of course, as I've said in my other posts, the girls in Mexico are also far more approachable, friendly, and open to casual interaction. Cold approaches don't always work, and girls will often ignore strangers who try to approach them due to the aggressive cat calls they have to deal with everyday. Nevertheless, if either they have a very approachable vibe to them or approach me first, then interacting with them would be very easy and natural. In those interactions, flirting and asking for each others' numbers feel completely natural instead of awkward and inappropriate.
As a "chino" ("Chinese"), I'd attract a lot of curiosity, which would always be positive. They'd ask plenty of questions about my culture and origin, which is because of their natural friendliness and openness. On the other hand, in the United States, people would hardly say anything about my being Asian, but there would be a lot of covert racism. In Mexico, I do feel a lot more self-conscious about my ethnicity, but it always feels like an asset rather than something to be ashamed of.
2. BAJA CALIFORNIA
In the little tourist port town of San Felipe, I saw this marked difference. While I was at a trinket stand, I chatted up some women selling necklaces and bracelets. Then some white American teenage girls came there, and the Mexican ladies encouraged me to talk to them. Then I said I'm also a tourist from California, I'm loving this place right here, and how about you? So guess what happened. They completely ignored what I said, looked away, and gave me a "stay away from me, you creep" kind of feeling. None of the Mexican women I talked to at San Felipe had ever given me this kind of treatment. And later that day, when I was coming down from a lighthouse, I said "Hola buenos dias" to some girls who happened to be going up (they looked like they're of Mexican descent). But then they looked away, tried to avoid me, and didn't say a single word - instead of saying "Buenos dias" back to me like almost all Mexican men and women do. Then several seconds later, they started talking to each other in English. No wonder - they're "pochitas" (slang for overly Americanized girls of Mexican descent).
In Mexicali, I chatted up two Mexican girls at a Chinese restaurant in Mexicali. I asked if I could sit next to them, and they squealed in delight, saying, "Claro que sí, guapo" ("Yes of course, handsome!"). Both are in their 20's. They're very flirty and aggressive!
3. SINALOA
Even disabled and homeless people are incredibly down-to-earth. They are so much easier to approach and befriend than those in the U.S.
In Mazatlán, while asking around for some "comida económica" (affordable food), a homeless man actually helped me out by showing me a cheap place to eat for breakfast, and we had a wonderful meal together. Of course, with my American sensibilities, I hesitated at first, but felt there was something special and sincere about him that made him trustworthy. His friends were also super friendly and approachable. He is a former drug addict who sleeps on the beach. However, he remains optimistic, and says that he will try to keep going forward in life ("que siga adelante" in his original words). He thanked me for being a "muchacho muy bueno" and said "Que Dios te bendiga" ("May God bless you") as he left. In the U.S., most homeless people would not be approachable at all. There would be plenty of "ice" around them, unlike the homeless folks I've met in Mazatlán. Try to have a similar experience with a homeless guy in the U.S. - it is possible, but would be very hard to find!
No wonder the famous song "El Corrido de Mazatlán" says that "Aquí hasta un pobre se siente millonario" ("Here even a poor man feels like a millionaire.").
(Below: Here's where I met my homeless buddy.)
And in Culiacán, I met a Mixtec girl who was born in Oaxaca, but had spent most of her life in the northern state of Sinaloa. She is a 20-year-old single mother with a 1-year-old daughter. What's interesting is that she looks Asian. She actually hit on me and asked me why I can't get a second girlfriend in Sinaloa, since my girlfriend in Michoacán is far away. The guy next to her, a trinket vendor in his late 20's, says that she's currently looking for a husband.
4. GUANAJUATO
In the middle of a night at a bus station in the state of Guanajuato, a woman in her 30's to 40's approached me and asked me if I'm looking for a taxi. I was looking away and trying to avoid eye contact with her, since in the U.S. you simply don't randomly chat up strangers at the bus station like that! She asked me about myself (where I'm from, what I'm doing here), and not long afterwards, started being very flirty. She beckoned her friend to come over, and they both commented about my Asian features. In America, such comments would be signs of racism and derogatory feelings, but they actually thought my "ojos chinos" ("Chinese eyes") were really cute! I told them I have a girlfriend in a nearby part of Mexico, and they joked that they'd be happy to be my "Sanchas" ("Sancha" is slang for the girl that you're cheating with). We took some pictures together, exchanged phone numbers, and said goodbye after showing me where to get taxis. All this happened in a bus station that was nearly empty around midnight!
So here are those aggressive mamasitas
:
I went to a small town in the state of Guanajuato to stay with some friends. We climbed some hillsides and hiked all over the countryside. He then told me that all of the land is actually private. I was surprised, and told him that in the United States, I'd be arrested for trespassing if I ever tried to do the same thing. My friend said that the local ranchers trust people to go hiking and rock climbing on their lands. None of the barb wiring fencing had any "No Trespassing" signs on them, unlike in the U.S., where they'd be all over the place.
The bad side is that people throw trash everywhere. When I said that in California, littering fines are usually a few hundred dollars, another friend of mine in Guanajuato said that the police don't even care about such things. Then he said, "Ah, México libre y querido!" (literally "Mexico, free and dear!")
I saw people riding in the backs/beds of pickup trucks all the time too. Below: Don't try this in America - expect a hefty fine if you do so.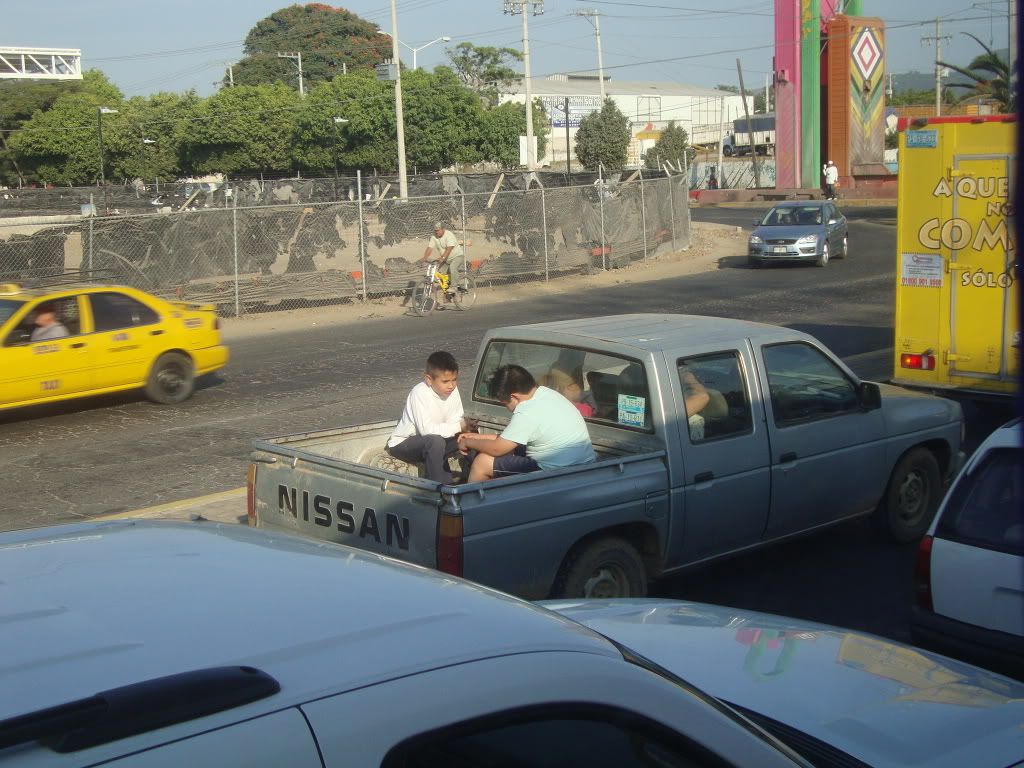 5. MICHOACAN
In Michoacán, I got to see my girlfriend again. I was very happy to see that she's grown both physically (in height) and mentally (in intelligence, etc.). I showed her the pictures of my trip that I've taken so far, and we talked and talked. We even went into a cathedral, where she prayed for me and my family. She wished me good health and a safe journey, and thanked me for being part of her life.
PM me if you'd like to see pictures of me and my girlfriend.
Anyhow, here are some good places to visit in Michoacán (sorry for the flash in the middle - it says Pátzcuaro):
6. OAXACA
In Huajuapan de León, a city in the northwestern part of Oaxaca state, I met these two wonderful guys at a torta (sandwich) café, and got to know them really well within an hour. We shared plenty of puns and jokes, told each other stories, and expressed our opinions of various issues such as migration and ethnicity.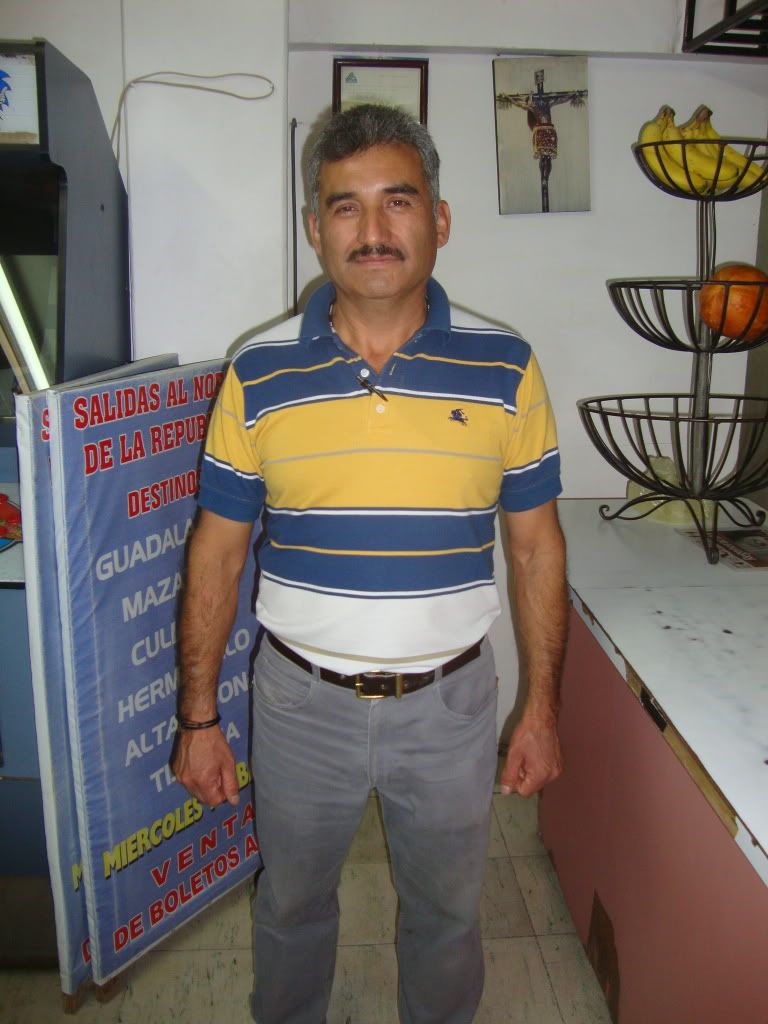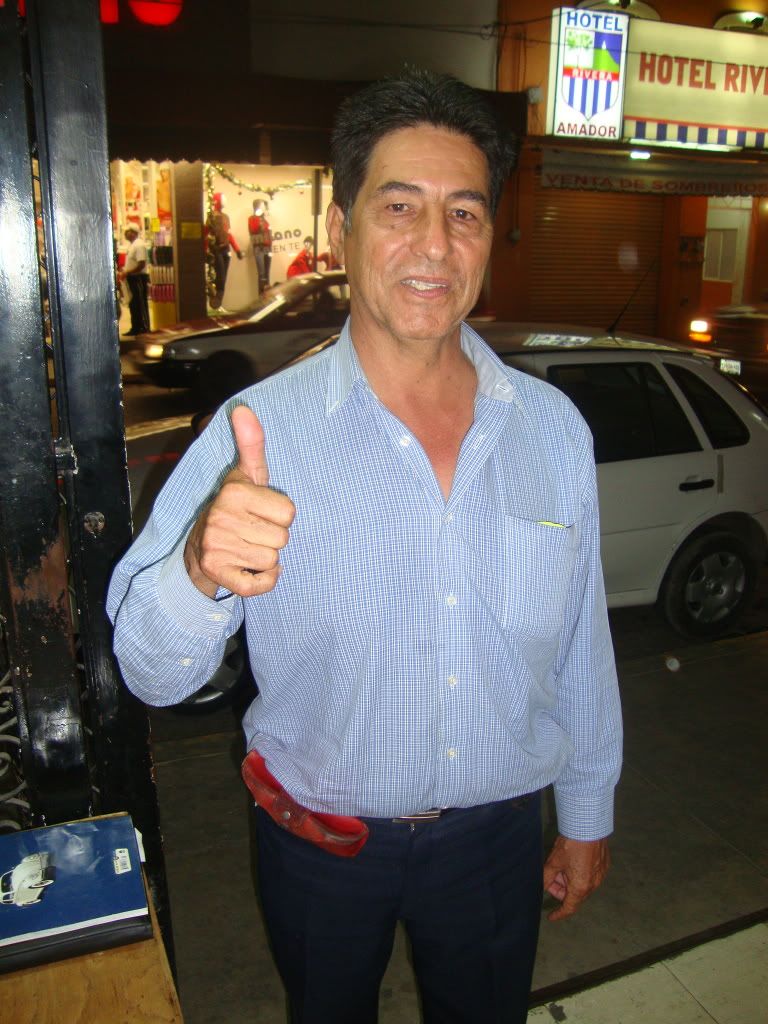 I was in Oaxaca City for the Noche de Rabanos (Dec. 23), Christmas Eve, and Christmas. The main plaza/zocalo and the entire region around it were so crowded that you'd have to nudge your way through your crowd in order to move (see below).
In Oaxaca City, a Mixtec kid asked me if there are any such festivals from where I'm from in California. I said no, since Americans are "muy peresozos" (very lazy), and tend to stay home and stay glued to their LCD screens during holidays. Later, that kid took me to a church where they were passing out free food for the locals. A Merry Christmas indeed!
In Oaxaca City, Triqui girls (originally from the village of San Juan Copala in western Oaxaca state) also flirted with me. The children, aged 5-12, also backed up the flirting with comments such as:
- "She's being jealous [that I already a girlfriend]!"
- "Which girl do you want out of these four? Pick and choose one!"
- "We'll give her to you for just 10 pesos!" (Triqui men traditionally pay dowries of several thousand U.S. dollars, or tens of thousands of Mexican pesos, plus 100 cases of beer, for a Triqui wife.)
It all starts at a young age. When I was in elementary school, girls and boys would avoid interaction with each other and form little cliques of their own. Casual flirting and dating/romance jokes were completely unknown to them. Now imagine what Californian vs. Oaxacan kids turn into within a couple of years.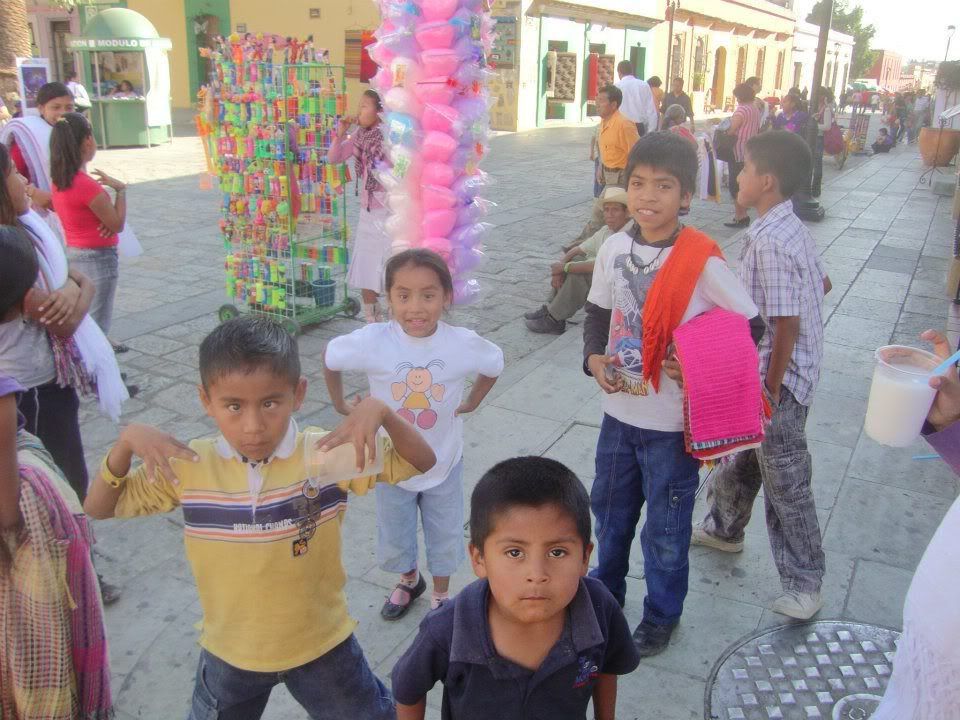 The girls showing me their traditional cuisine: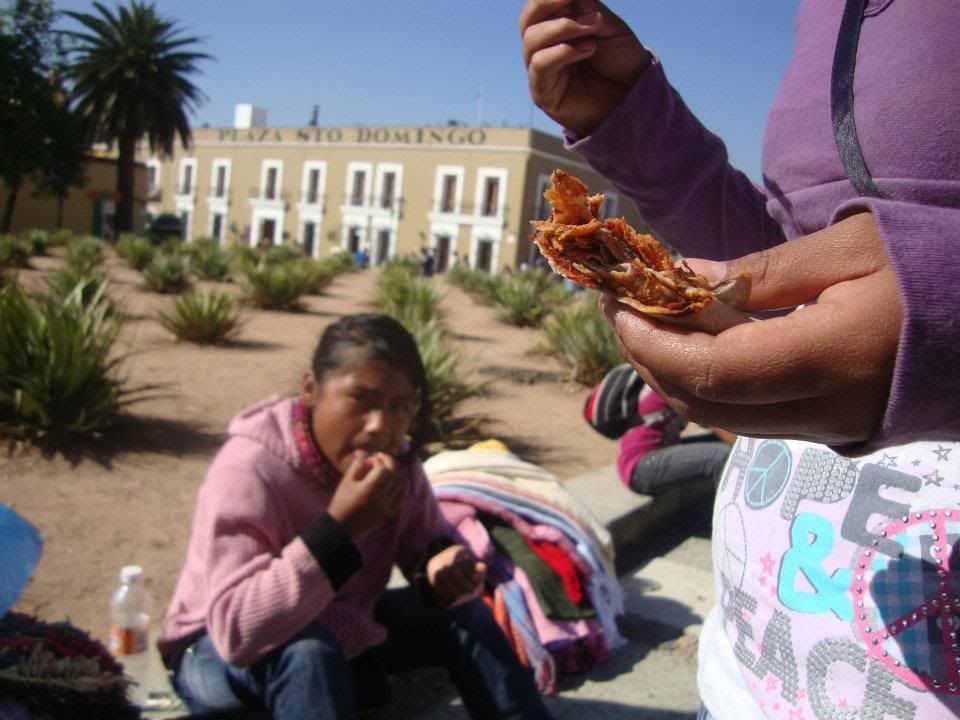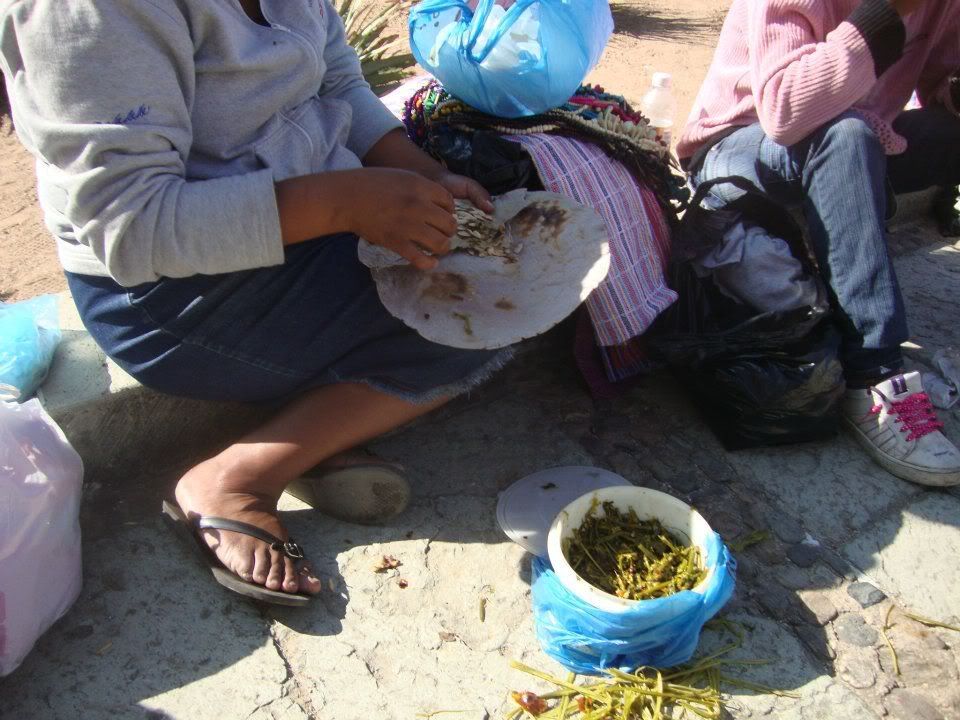 One Triqui woman even asked if I have any nephews or cousins for their daughters to get to know. I was surprised by that request, which is something that would almost never happen in America!
7. CHINESE GIRLS IN OAXACA
In Oaxaca City, I met four Chinese tourist girls from Shandong, Hunan, and Guangdong provinces in mainland China. They didn't speak any Spanish or know anyone in Mexico, so I showed them around the city and served as their personal translator. Also, the girls were very interested in little details (architecture, clothing) everywhere, and took plenty of pictures. They loved shopping for souvenirs too. However, they didn't seem to be very interested in interacting with and getting to know the locals, which was my primary interest. Instead, the girls kept mostly to themselves and spoke entirely in Mandarin Chinese. But overall, I had a great impression of them, as they were very down-to-earth, sincere, and intelligent.
In the U.S., a Chinese international student told me that in China, girls are "warmer" (bi jiao re qing 比较热情), and I could finally see that claim for myself. Nevertheless, they were far less aggressive and sexually open than the local Mexican girls are. Our interactions would always be very free-flowing, friendly, and natural (without any explicit romance), but Latinas would always tend to flirt or show romantic interest very quickly. The next day, one of the girls did try to catch my attention by saying, "hey, shuai ge!" (帅哥, "handsome boy"; a rough equivalent in Spanish would be "papi chulo"). I introduced them to lots of friends that I had just made in Oaxaca City. One of them, a man in his 30's, greeted one of them by giving her a kiss on the cheek, which really shocked the girls. I explained to both of them that it's just a cultural difference, and nothing more (girls in Mexico did the same to me). He apologized, and the girls said it's all right.
(PM me for pics for the Chinese girls.)
But after I introduced the Chinese girls to my Triqui female friends, the Triqui girls started to become jealous. They complained to me, "Tú - siempre con las chinitas! Vete con ellas" ("You - you're always with those Chinese girls! Go away with them!"). After I actually started walking away, they immediately beckoned for me to come back, and said "no no no, that was all just a joke! She wants you to stay because she's jealous!" Some of the Triqui toddlers then started pointing at the girls and shouted, "Celosa, celosa!" ("Jealous, jealous!") While all this was happening, the Chinese girls were at a tourist kiosk several feet away asking for maps.
I also showed a Japanese male solo backpacker around Oaxaca City, and introduced him to one of my local Mexican friends who was in her mid-20's. I translated for them, since the Japanese tourist spoke no Spanish and the girl didn't speak any English. She told him that she loves Japanese guys, likeds his Oriental eyes, and also enjoys watching Japanese movies. Then she commented that he seemed very shy ("tímido"), and that he looked a little serious ("serio"). Such demeanors are quite typical in East Asia, but not in Latin America. But I just told her that it's because he doesn't speak any Spanish and doesn't know the city well, since it would take forever to explain what Winston described in
http://www.happierabroad.com/Asian_Ment ... ictness_of
(not saying my Japanese friend's exactly like that, but you get the idea).
8. BACK TO CALIFORNIA
But after Christmas, as soon as I stepped into California after I got past the border inspection station, the entire social atmosphere was strange. I noticed right away that people of all races there, except for the recent immigrants, nearly looked like zombies! At one lonely bus stop, there was a guy listening to death metal with his earbuds at max volume. That was it - no one else. The streets were nearly empty, and everyone looked quite miserable. Everyone was obviously at home watching TV, surfing the web, or "hanging out with friends" at home. Winston's reports of American vs. foreign social life are no joke. I saw the contrast for myself within just a few hours by crossing the US-Mexico border during Christmas season.
So overall, it really was quite an adventure. You can also have such an adventure if you've got the language skills, personal charm, and "guts" to do it. Go abroad, and see, hear, and feel the difference for yourself!