I have been researching religions for a while, but I didn't visit any traditional Anabaptist groups until last weekend because there are none near me. My wife and I drove several hours to Belen, NM, to visit them. I was very impressed. I didn't take any pictures, but here are some pictures from the internet that match what I saw.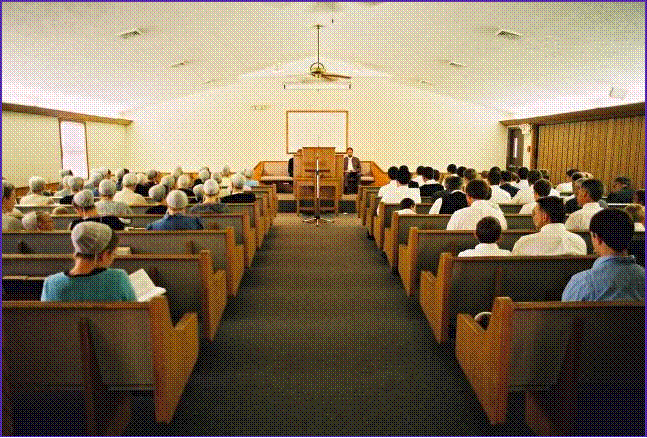 I attended the Sunday service which was about 10am to 12pm. There was a great emphasis on the Old Testament and not just on faith, but also on doing the right thing. Almost the opposite of disgusting modern Christianity, I was thrilled. As you can see in the last picture, the sexes are clearly separated. After church we (my wife and I) visited one of their homes with a group of them for lunch. They seemed very open, much more tolerant than members of modern culture. They have their ways but they are willing to discuss things openly. I expected them to be closed and ignorant, but one of them was reading Josephus's "The Jewish War" and we discussed this. They seem less ignorant of things that matter than modern Americans are. They have no television or internet. They know farming and construction and grow their own food and build their houses within their community. They have little need for the outside world, and little knowledge of the modern world. Of course they are missing nothing, the modern world is pure crap. But as a result, they seem innocent and have no real idea how depraved the modern world is.
They live on the outskirts of a small town outside of the Albuquerque. There are many other churches there, especially Baptist, but there seems to be almost no interaction between the Mennonites and other Christians. This is good, of course, since modern American Christians are slime.
Right now I think that associating with a traditional Mennonite church is the ideal lifestyle in today's world where almost every culture is crap. I think one can do this without joining them if one is sensitive not to upset their lifestyle. I had been looking at Orthodox Christian churches and Orthodox synagogues as possible refuges from modern culture, but now the Mennonites are my first choice. I will start contacting Mennonite churches in areas that I would consider moving to.
Here is a good map of traditional Mennonite churches:
http://www.pilgrimministry.org/congregations/map
Those looking for a sane culture should visit a Mennonite church near you. And please post your impressions to this thread.