1. Amazon Kindle, Wi-Fi, Graphite, 6" Display, currently $114 with free shipping from Amazon.com
http://www.amazon.com/kindle-store-eboo ... =133141011
This isn't a book per se, but it's a great ebook reader. I usually buy the books I want to read from home, so I don't need the 3G capability. If you want the 3G version, it's only $139 with free shipping. And yes, WiFi can be disabled to save battery life. After donating over 20 boxes of books to my local library back in 1999-2000, I tried various ebook solutions, including Palm Pilot devices at one point. So far I think the 6" screen Kindle is the best bang for the buck. If you accidently break it, it's only $114 vs. the Kindle DX and iPad is far more expensive. My only complaint is that the device stores your payment information, so what happens if someone steals it?
My favorite Kindle downloads? Sherlock Homes the complete collection for $0.99.
2. The coffeehouse investor
http://www.coffeehouseinvestor.com/
I read the original version (2005) and not the updated version. If you don't like to read a thick, heavy book on investing, this is a great little book to have. Warning: not for those who thinks the dollar & US market will collapse.
The original book:
The new book:
3. Boglehead's Guide to Investing
http://www.bogleheads.org/
I'm a fan of Taylor Larimore's 4-fund portfolio and Boglehead's 3-fund & lazy portfolio strategies. You can read about it here:
http://socialize.morningstar.com/NewSoc ... eplySeq=71
http://www.bogleheads.org/wiki/Three-fund_portfolio
http://www.bogleheads.org/wiki/Lazy_Portfolios
The original book:
The new book: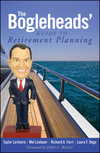 4. Books by John C. Bogle:
http://www.amazon.com/John-C.-Bogle/e/B ... r_dp_pel_1
I've read several books by Mr. Bogle and would highly recommend them. Yes I'm a Vanguard index fund fan ;p
5. Rich Dad, Poor Dad
Let me say upfront that this is a great book to read, but you should not pay $ to attend any of the franchise's seminars or events, which are a rip-off. If you pay $500 to attend one of their seminars, some idiot on stage will tell you to go apply for 10 credit cards and come back to sign up for $x,xxx worth of additional investment classes.
I'd only recommend the book and the Cashflow games (quite entertaining). Skip the other stuff.