How to Spot Fake, Fraudulent, Lying, and Scam Profiles in Online Dating
by Kai and Mrs. Kai
Introduction:
This guide is designed to help
MEN
figure out how to catch fake, fraud, lying, transgender, and scamming women that create profile on the many dating profile websites out there. This guide will also help guys to vet out the good women they meet and avoid loss of money, time, effort, as well as potential embarrassment. Each region has it's own quirks. Much of this guide will apply to all regions but some breakdowns based on region will be supplied as the content from additional HA members contributors are supplied to this guide. This guide must be a "Living Document†requiring updates in the future from other HA members, especially if I become inactive on HA in the future. Please seek Winston's assistance or the other moderators for providing and updating content to this guide if deemed necessary.
Most of this guide is intended to help with Foreign Women. I will not be addressing content regarding the vetting of American Women, only perhaps using them as a comparison, but if someone is interested in submitting content for that purpose, feel free to submit that information to me or Winston.
This guide will follow this basic format.
1. Ethics, Ethical Hacking, Limitations
2. Foot-printing Work (Investigative)
3. Busting Photoshop Jobs and Technology
4. Busting Liars and Language Barrier Techniques
5. Avoiding Scams, Hooked/Catfishing, Scammers, and Transgender Women
6. Social Engineering (How to get juicy information from women)
7. Regional Quirks
Ethics, Ethical Hacking, Limitations
First let's quickly discuss some ground rules for Ethics, Ethical Hacking and outright limitations on digging up dirt on women.
1. Some countries have greater privacy rules than the country you are living in. Please keep that in mind.
2. Hacking within the laws of both the country you live in and the target's country is okay, but make sure you do your own homework on the various laws regarding that.
3. Doing IP address lookups are legal and okay, as long as you legally obtained their IP address to begin with!
4. Taking photos of women on Webcam chats might be illegal, and most likely unethical, check the local laws first.
5. Please stick to publicly accessible data. A fool will always provide enough rope to hang their own neck. No need to force yourself to rope them.
6. These are women. They are not as logic driven as men so they make mistakes. However! Never underestimate their creativity and passion! Also do not think as if you are better than them logically. Your logic bound tendencies, are merely tendencies. Good intellectual skills are EARNED, beginning with the acknowledgement that you do not anything at all.
Foot-printing Work (Investigative Work)
Dating online for foreign women is a lot of fun, intriguing, and sometimes can be demanding on your time personally. It really is simple overall. Work hard at it and you will succeed. If you are lazy, you will fail. Dating American Women is a shitload of hard work, and not fun. So if you hate online dating and all of your experience is with American dating sites, you need to reconsider trying on foreign dating sites, and drop your biases and baggage at the door. Trying doesn't hurt at all, especially if you read this guide first.
Also before you start make sure you figure out what strategy you are aiming for. Wife material, is not necessarily FREAK material, and vice versa. Look for context clues in order to build your own profile for these women.
Okay, let's look at some dating site profiles of some random various women and pick up some context clues.
1. First here is a randomly DateinAsia.com profile: (sticking with 7-10 women for now)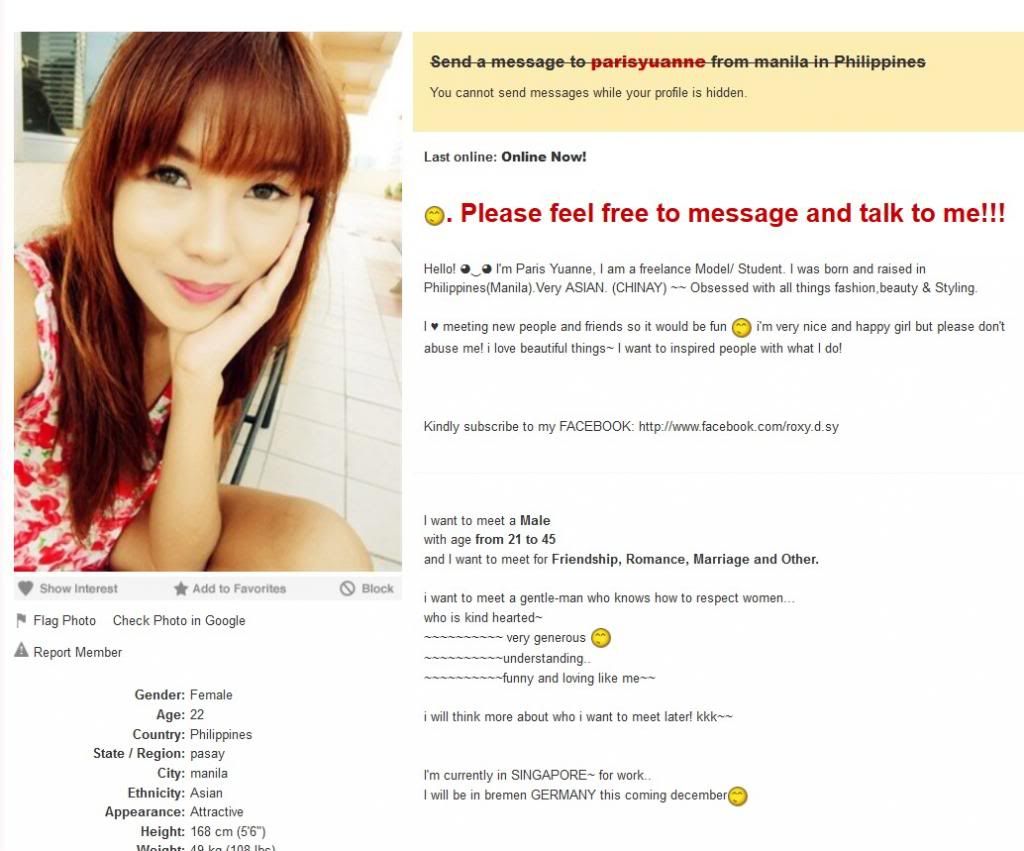 Exhibit 1-A
Exhibit 1-B
Ok so this first lady has some interesting things in her profile that are red flags depending upon what you are searching for. Wife material or a Freak.
1. She is young but has been a member of the site for well over a year.
2. allegedly a fashion model and student.
3. Face is photoshopped (More on this later).
4. Says her eyes are Brown but the photo shows different.
5. Asks you to
subscribe
to her Facebook page.
6. Comes off a little Westernized (might be a problem for some of you guys)
Ok the facebook thing is a good bet right now to poke into so when I open it up, this is what we find.
Exhibit 1-C
Quick Notes
1. She is from Beijing and lives in the Philippines.
2. She has 563 followers (Hello!)
Most of her Facebook account is locked but we can still look at her public profile photos right? YEAH! So lets take a quick peek!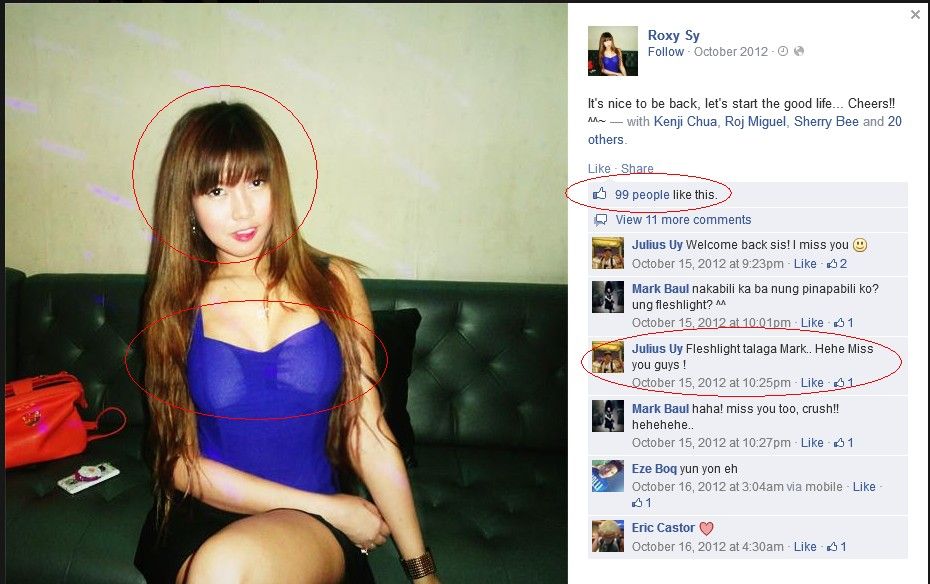 Exhibit 1-D
Quick Notes:
1. A Sausage Fest (Look how many different guys are commenting on this photo)
2. Some guy made a "Fleshlight" comment (She might be a possible freak)
3. Notice the padded push up bra?
4. Photoshopped face (more on this later)
5. This time her eyes are brown (unlike the Date in Asia Picture)
6. The language used on this photo in her page screams Westernized
Ok that's just one thing. How about another one?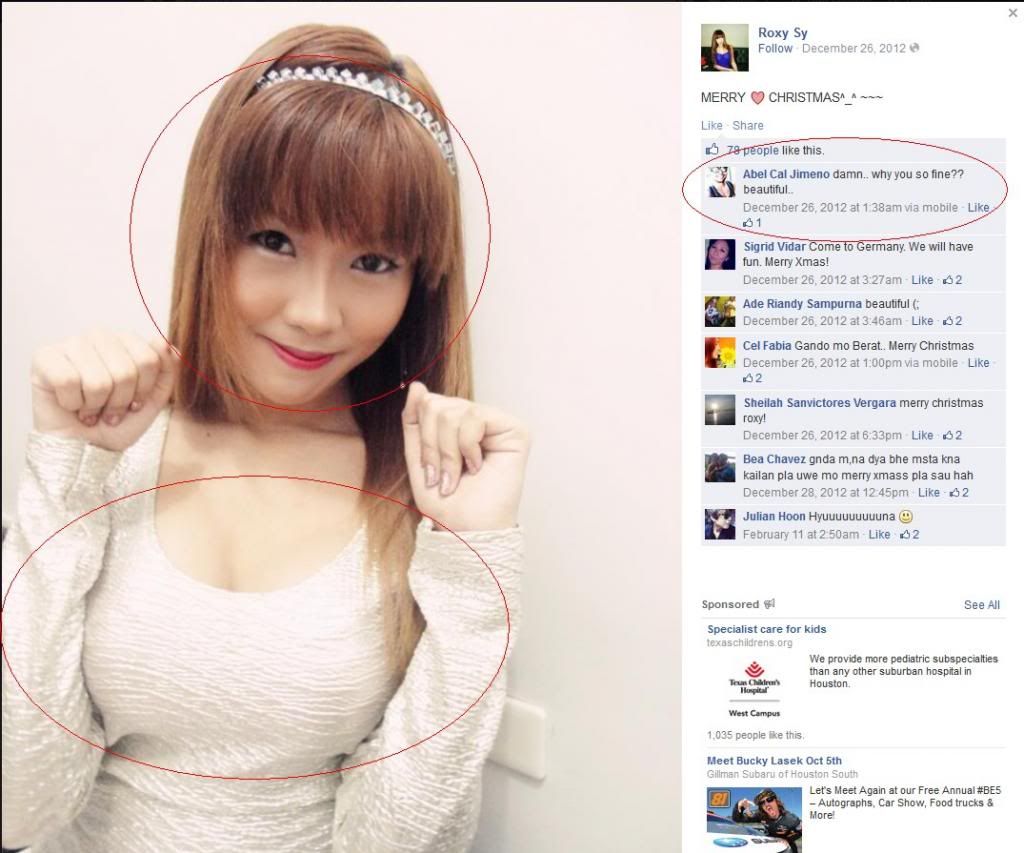 Exhibit 1-E
Quick Notes:
1. Tiara on the head a day after Christmas (Possible Princess Issues?)
2. Bad makeup, see the puffiness under the eyes? Could be eyeliner as well.
3. Photoshopped
4. Big breasts this time
5. Cutesy pose Japanese style
6. More ass-kissing male followers (again, a sausage fest)
Conclusion:
We have enough now to figure that she might be a
spoiled brat
open-minded
possibly freaky
definitely not wife material for most men,
possibly a good candidate for pump-n-dump
immature possibly
attention seeker
Pretty much Westernized
Might be looking for a mangina friends to validate her existence (hence the sausage fest)
I could go on and on, but you guys get the point. Sure you can talk to her to get the whole story, but there is alot to work off of with all this by itself! By the way, I found this profile after 5 mins of signing up to the site. Not all of the profiles are like this, but there are some like this for sure.
NEXT!!!
Lets do a fun one because that randomly picked one was a bit too easy in some ways.
Here is a Chinese woman from a site Loveme.com. She looks stunning of course for her age. She has obviously used alot of Photoshop to make herself look younger. But she does not have a Facebook and is not Westernized at all! She made one small mistake, and I will show you what I mean. She looks stunning for her age, and no Western woman that looks that good would need to use a dating website, but it is not uncommon for Women this hot to exist on a dating website at that age in Asia, especially China or Japan.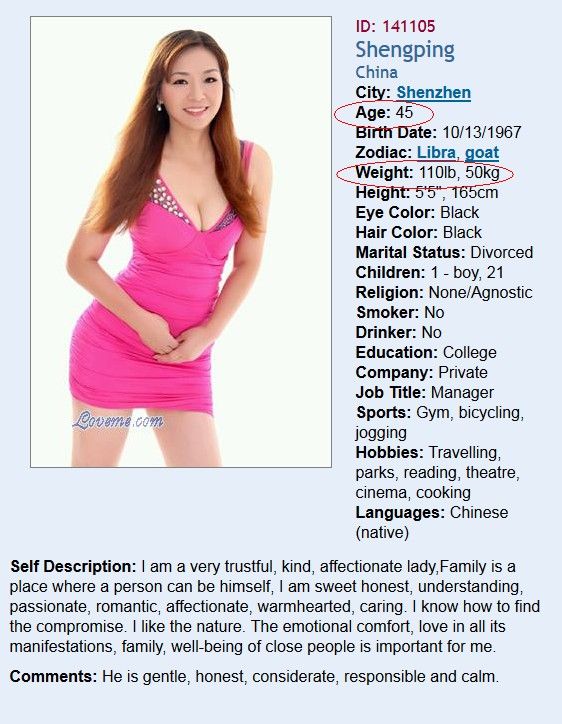 Quick Notes:
1. She is hot for 45
2. Look at the space between her elbow and waist. (What woman hot or not hot, has a perfect coke bottle shape like that?)

3. The photoshopping is too strong
Click on her Additional Photos and we see more of the same: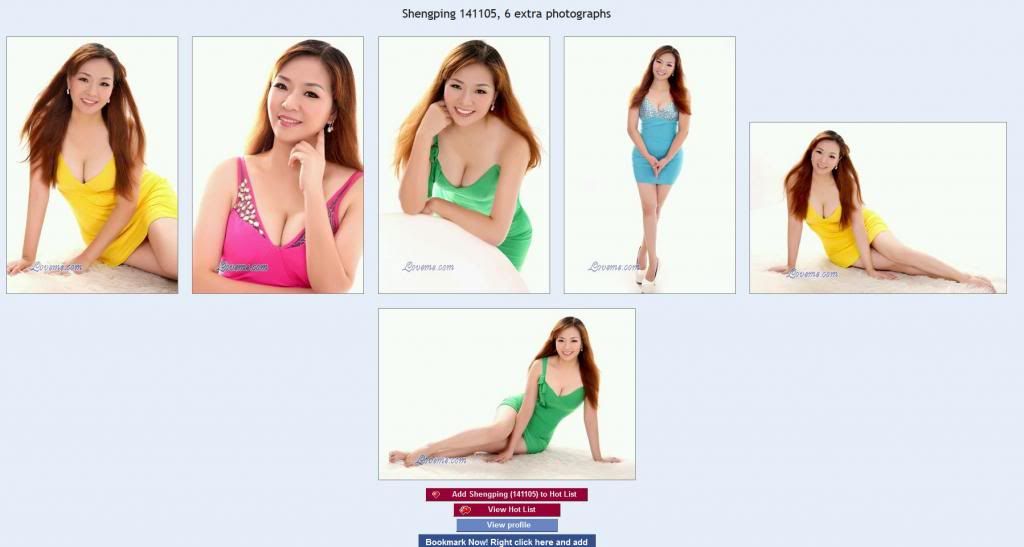 Quick notes:
1. Come on dawg!? Really? This broad is easily hotter than Hellen Mirren and she is a stone cold fox for her old age!
2. Inconsistent waist size in the photos
3. The 3rd picture has a sloppy photoshop job because the arm on the right is too skinny.
4. Pic 1 and Pic 5 might have the hair photoshopped because the hair looks exactly the same position wise.
So with no Facebook page (She is Chinese and they cannot have those, nor do 98% of them bother if they can), we need to get a little more sneaky and crafty to dig more information.
Which leads us to jump into the almighty
GOOGLE

!
Google has an image search feature!
Here are some steps on how to use it.
After you upload the picture, you might find some hits.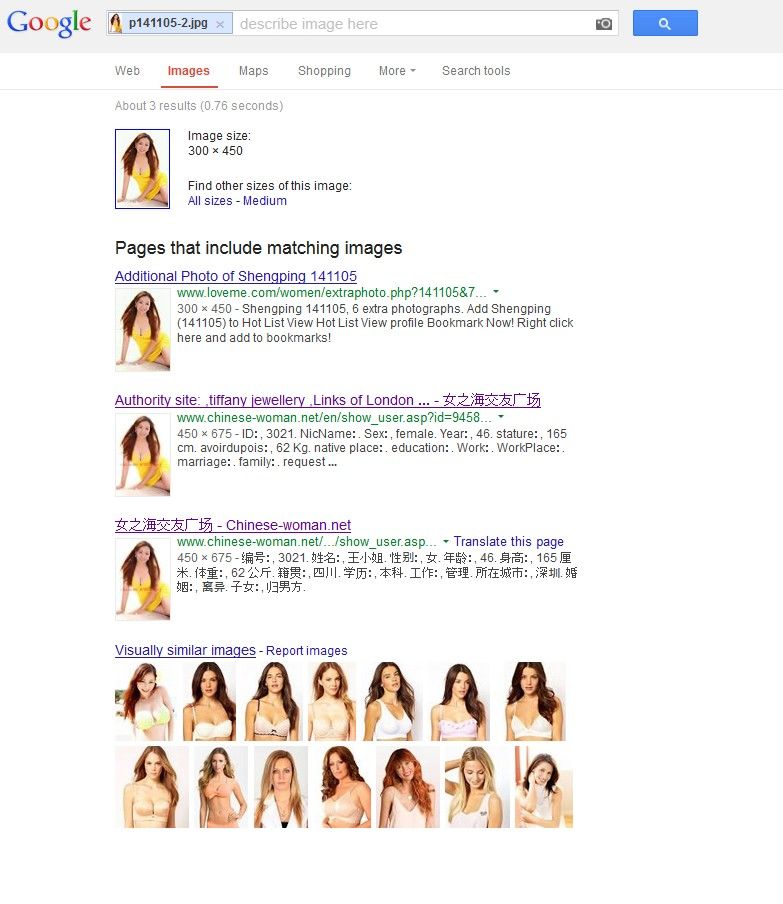 So she has a few other dating profiles on some other sites. One looks like it is in french and the other in Chinese.
*TECH TIP*
Use Google Chrome when doing stuff like this because it can automatically Translate the foreign language into English for you.
Original
With Google Chrome
OK now! The interesting stuff! Notice the Red Circles on the Original that I made? This old bird gives out her Email address, her Phone number, AND her QQ Number! WOW, although that is not really that unusual, or even difficult to get in a way, but we will cover more of that later in Social Engineering.
Also note that she is now 67kg instead of the 50kg she said on Loveme.com.
Here is where, knowing and studying the language and culture of a place comes in handy. The QQ number is like the Facebook for someone in China. Technically their Facebook is called QZONE. They also have Weibo and WECHAT and you can also search those too as well.
OK so if you have a Qzone page yourself or even if you do not, if you try to go visit her Qzone page it will stop you because of her privacy settings.... it asks you to request permission from her but we do not want to do that, unless you do not mind of course, because we are trying to maintain our cover. BUT WAIT! If you download QQ International (english/French,Spanish, etc) Instant Messenger for Android or iPhone and do a contact search on her QQ number, you can see her profile photos!:D