Cheap oil is great for countries that don't have an oil industry but its an economic disaster for industrialized countries. Here's what financial analysts will never tell you.
Cheap Oil Edging Us Toward Global Economic Collapse
http://www.forbes.com/sites/bryanrich/2 ... 5b7176f5c4
Most people think modern technology has made us more efficient in our industries and our economy. However, this is not the case. Our modern food production and distribution system now consumes ten times more energy than it provides. EROI stands for Energy Returned On Invested.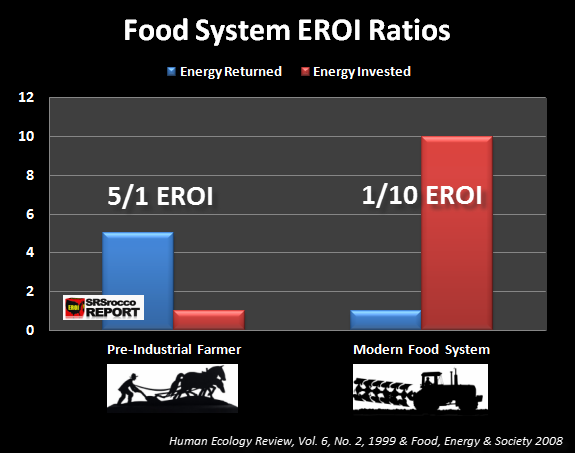 A minimum EROI value for a modern society is 20/1. For citizens of an advanced society to enjoy a prosperous living, the EROI of energy needs to be closer to the 30/1 ratio. The U.S. oil and gas industry EROI fell below 30/1 46 years ago (after 1970). Not surprisingly, the US dollar was soon taken off the gold standard shortly afterwards in 1971 with the Bretton-Woods agreement. The reason are we seeing such a rapid and volatile change in the markets recently is due to rapidly falling EROI and oil price. Currently, U.S. shale oil production has a EROI value of 5/1 (or less), which means we will soon no longer be able to afford the basic necessities.
In addition, the rapidly falling EROI of U.S. and Global oil will cause serious trouble for food production going forward. From this point onwards retrieving the present financial fiat system is no longer doable. Within a few years from now the Oil Industry as we know it will disintegrate.