Mostly in the US, these 3 are prominent.
2
3
4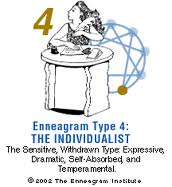 2's can be difficult for many in this website to relate with - too sensitive to things like political correctness or whatever. More specifically, people who are 2w1s (mix of 2's and 1's) are better than 2w3s (mix of 2's and 3's), if you ask them to take the enneagram personality test with wings.
3's are two-faced, fake people.
4's are too easily jealous. If you're not 6 ft tall or perfect or what-not they are very insecure about whatever they're jealous about.
5's usually are the female nerds, found in colleges, engineering majors, etc.
6's are very loyal on average and if they have a boyfriend from high school, likely will not be an option. The "unicorn"? Downside is they're very paranoid. May be more common in conservative towns/families, etc.
7's are the "bad girls". Prostitutes, if they exist in America, or druggies. Party-types.
8's are the "tough girls". Most likely working in 9-5 job.
9's are a bit lazy.
1's are perfectionists.