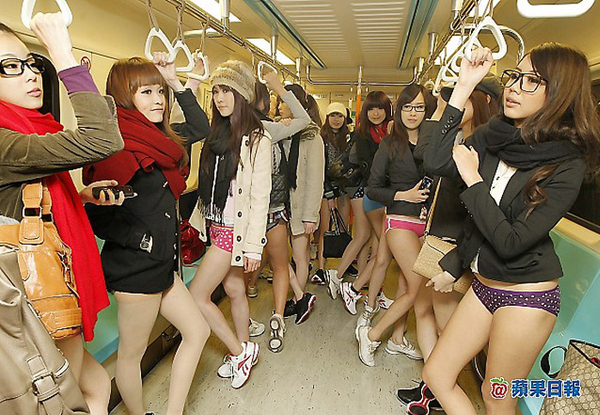 The Myth and Lie of the Taiwanese Young Generation Being More Open
By Winston Wu (Founder of HappierAbroad.com)
"The object in life is not to be on the side of the majority, but to escape finding oneself in the ranks of the insane.â€
- Marcus Aurelius, Roman Emperor
I don't understand something. Why do people say that the young generation in Taiwan is more "open" than previous generations?! No frickin way! Who the hell started this myth and lie?
The reality of everyday experience is the opposite.
In Taiwan, the only people that freely engage strangers in conversation are the elderly folks and foreigners.
They are the only ones that freely talk to me anywhere I go in Taiwan.
Young Taiwanese adults (especially women) definitely DO NOT freely engage strangers in conversation.
HELL NO! Instead, they are cliquish, stuck up, snobby, and uncomfortable making eye contact or conversation with strangers. Their body language and vibe is NOT relaxed or open toward strangers at all. You see, in their minds, they are either "too cool" or too shy to talk to someone they don't know. Now that is definitely NOT a characteristic of being "open". No way jose. Not at all.
In fact, this closed cliquish exterior behavior makes the Taiwanese more like the Japanese rather than the mainland Chinese, despite their ethnic roots.
People who are truly "open" will freely engage in chat with others in a relaxed manner. They will not be stuck up, uptight, cliquish, closed or standoffish, like the young Taiwanese generation is. There are many foreign countries where young people are truly open and engaging - such as Russia, Ukraine, Eastern Europe, Latin America, Southeast Asia, etc. but Taiwan, Japan and America are not among them. In contrast, the Taiwanese generation of the 1940's and 1950's seem far more "open" socially and conversation-wise, than today's young generation is. There is simply no comparison.
In reality, the young generation today are more selfish, narcissistic, and spoiled than ever before. They have a high sense of entitlement, lower morals and values, and more new gadgets to play with. That everyone agrees on, including the young generation itself, because it is so self-evident. But more socially open? No frickin way! That is a 100 percent LIE!
Not surprisingly, every honest down-to-earth Taiwanese person I've talked to has agreed that their young people, especially girls, are very shy, closed, and not open with strangers. This obvious trait is simply part of Taiwanese culture, and is common knowledge in Taiwan (despite the myth, ironically). Taiwanese girls are the most extreme example. Everywhere they go, they carry this "don't bother me look" on their faces, which makes them unapproachable. And their body language is cold, stuck up and cliquish. Alongside Japan and Korea, Taiwan girls are among the least open and engaging of females in the 200+ countries of the world. The only strangers they might give any special attention to are either Asian pop stars, or foreign white guys (regardless of their looks). Even in retail sales and customer service occupations, Taiwanese girls are cold and business-like, devoid of warmth. I don't know how they got that way, but their cold demeanor seems very inhuman.
The only people that deny this obvious fact are the politically correct liberal crowd, who consider negative observations about people in a particular culture to be anathema (using the "you are stereotyping and generalizing" copout), no matter how true or obvious. These folks do not like truthful talk, and do not like to tell it like it is, but prefer politically correctness statements instead, such as "everyone is so friendly and open, everything is wonderful, and life is beautiful". Such delusional denialists are all too common among today's young generation, not only in Taiwan, but throughout the Western world as well.
So what do these mythsters mean by "open"? Perhaps they mean open-minded? If so, in what way? Well, let's see. I guess the young generation are more open-minded about alternative lifestyles such as being "openly" gay, wearing tattoos, having casual sex at a younger age, choosing to remain single rather than starting a family, etc. Uh, is that all? So what? Big frickin deal. Anyone can be open-minded about those things if they choose to be. That doesn't make them more "open". Sheesh. It just makes them more liberal and perverted (or "openly" perverted rather). But socially speaking, they are still closed, cliquish, exclusive and do not freely talk to strangers (unlike their elderly). Becoming liberal or perverted has NOT changed that at all.
In America, there is a similar dichotomy. If you go to Denny's or a mom and pop Diner in the morning, you will see a lot of elderly people having breakfast. These folks will freely engage in conversation with strangers and will even talk your ear off. They have a lot of interesting things to share too. You can find such folks in public parks too.
But if you go to where young people hang out, such as a dance club, rock concert, amusement park, mall, party, college campus, etc. you will see how totally cliquish, exclusive and stuck up they are. They are uncomfortable with strangers and ignore them totally. They think they are "too cool" or too shy to talk to someone they don't know.
Now how is that being "open"? Sheesh. This lie is so frickin ridiculous. Just because the young generation is more "open" about perverse lifestyles - such as being "openly" gay, having tattoos, being sexually active at a younger age, etc. does not make them more "open", especially not socially open. Sheesh. Perversion and liberalism does not equal openness. My God. How stupid can people get?! Socially, they are still the same - closed, cliquish, and exclusive.
Rather than being socially open or inclusive, the young generation are self-aborbed, artificial, fake, spoiled, snobby, cliquish, and do not develop authentic personalities, but superficial ones. Being honest, down-to-earth, and telling it like it is, are alien traits to this generation.
"Open" is totally the WRONG word to describe today's young generation in Taiwan, or even in America. "Perverted, liberal and rebellious" maybe yes, but "open"? No frickin way! Whoever came up with that is a total frickin idiot and a bald faced liar. I swear.
So, as usual, reality is in direct contradiction to the fictitious myths people spread, such as the claim that the "young generation is more open". Such myths are lies, since the truth of everyday reality and experience points to the opposite.