Glut of women at Shanghai's marriage market
http://edition.cnn.com/2013/11/03/world ... ?hpt=hp_c1
Shanghai (CNN) -- Liu Jianle smiles as he spots a potential suitor for his recently divorced niece among a sea of white personal ads pegged to a board.
Pencil in hand, he jots down the man's details -- 33 years old, 1.7 meters tall (5 feet 7 inches), 140 pounds, a property owner, divorced but no kids.
The only wrinkle is that his salary is $800 a month, not high by Shanghai standards. No matter, says Liu, his niece has a good job.
Welcome to Shanghai's marriage market.
Each weekend, mothers, fathers and, in Liu's case, concerned uncles, come to a sun-dappled corner of Shanghai's People's Park to find Mister or Miss Right for their children.
Some write posters by hand listing their offsprings' vital statistics -- height, age, income, education and their hukou or registered hometown -- and pin them to umbrellas or shopping bags. Others come with a notebook to see what is available.
Liu is a veteran. He found his son a wife here and they've been married for more than a year.
"She's 1.69 meters tall (5 feet 6 inches) and beautiful like a movie star," he says. "He was happy to get the introduction."
With young Chinese told to put education and work before finding love, many struggle to find boyfriends or girlfriends, a source of deep concern for their parents in a society which emphasizes the survival of the family line.
Worried family members are joined by professional matchmakers, who try to make a living from the unusual gathering.
The city even organizes an "annual love and marriage expo" to help young people find love that attracts 18,000.
Each weekend, mothers, fathers and, in Liu's case, concerned uncles, come to a sun-dappled corner of Shanghai's People's Park to find Mister or Miss Right for their children.
"A lot of kids who were born after 1980, they don't have siblings. So they grow up in an environment where you don't have the experience to meet with people of the opposite sex," Song Li, the founder of an online dating service, told CNN at the event in May.
The market has been around since 2004, says Li, who runs a professional matchmaking service from the park. With almost three times as many women looking for partners than men, it can be difficult to make a successful match.
Men can register for free, while she charges a fee of $500 for her female clients.
She also has an age limit; men born after 1970 can sign up, but women must be under 33.
"There's a shortage of superior men," she says by way of explanation.
It's a similar story at Fan Dongfang's booth. He says he matches 20 to 30 people a year and brandishes a clutch of wedding invitations as if to prove it. He also has a glut of women on his books.
"There are too many leftover women in Shanghai," he says, using a popular term to describe an educated, single, urban women over the age of 27.
"Their standards are too high."
While the numbers stack up in favor of Chinese women -- according to the China Statistics Bureau, there are now 34 million more men than women in China -- this doesn't mean they will pair up easily.
Chinese men tend to "marry down" both in terms of age and educational level, observers say. Plus, many of China's unmarried men live in the countryside.
Distance is no obstacle to the parents' matchmaking ambitions, nor is their children's consent.
One mother displays a handwritten A4-sized poster in a clear plastic wallet seeking a match for her 36-year-old daughter, who works as an accountant in Toronto. The market has an "overseas corner" for parents who have children living abroad.
"I can't give you my name because my daughter doesn't know I'm doing this and I don't want her to find out," she says.
"I just want her to find someone with a stable job, who is tolerant and open-minded."
China's 'leftover women' choosing to stay single
http://edition.cnn.com/2013/08/18/world ... g-fincher/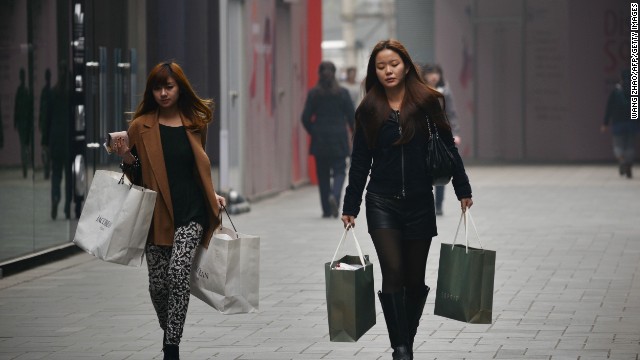 Beijing (CNN) -- After years of being badgered by her parents to get married, 26-year-old Zhang Yu finally had enough.
"I have decided never to marry or have a child," said Zhang, a university graduate from Changsha, Hunan province, who moved to Shanghai earlier this year to escape her family and jumpstart her career.
Zhang's vow to never marry is rare in a country where educated women are constantly told by their families, friends and the state media that they will be lonely and miserable if they do not find a husband quickly.
Yet some women are fighting back by rejecting marriage altogether.
Zhang had been living with her parents in Hunan to save money after obtaining her college degree, and for a time, fell sway to her parents' worries that she would become a "leftover woman" (or "shengnv" in Chinese,) officially defined as an urban, educated woman over age 27 who is single.
But upon reading feminist websites, she came to believe the term existed to make women return to the home.
She then took a risk by moving to Shanghai without a job and leaving the comforts of home for a dorm room shared with nine other roommates. But she loves her new friends and sense of freedom.
"Men are still thinking in the old ways, but women's values have evolved. I feel very relaxed now," said Zhang, who just received a sales job offer.
Lan Fang, a 32-year-old client relations manager for a financial company in Shanghai, similarly embraces her single lifestyle. She enjoys a relatively high income of 20,000 RMB a month (around US$3,200) and often goes out with friends to dinners, movies and concerts.
"Where I grew up in Nanjing, I saw so many couples getting into big fights, and most of them seemed unhappy. Plus, so many men have affairs," Lan said. "My life in Shanghai now is very rich, why would I want to change it?"
Zhang and Lan are in the minority, but their attitudes reflect the reality that marriage in today's China does little to protect women's rights.
For example, a Chinese woman has almost no recourse if her husband abuses her. Official statistics show that a quarter of women have experienced intimate partner violence, but feminist activists say that number is an underestimate.
Li Ying, an attorney and director of the Yuanzhong Gender Development Center in Beijing, said many women do not recognize they are victims of domestic violence.
"Ask a woman if she has experienced domestic violence and she will say, 'Oh no, of course not!'" Li said. "Ask her if her husband has hit her and she will say yes."
Despite years of intense lobbying by women's rights groups, the Chinese government has failed to enact targeted legislation to curb domestic violence.
"Judges almost never define a case as 'domestic violence' because the current law in China is not specific or clear enough," said Feng Yuan, a leading activist with the Anti-Domestic Violence Network in Beijing. As a result, it is extremely difficult for women to secure protection from a violent partner.
Married women also experienced a severe setback to their property rights in 2011, when the Supreme People's Court amended China's Marriage Law to state, essentially, that marital property belongs to the person whose name is on the home deed. In China, that person is usually the husband.
According to a 2012 survey by Horizon China of home buying in the cities of Beijing, Shanghai, Guangzhou and Shenzhen, only 30% of marital home deeds include the woman's name, even though over 70% of women contribute to the marital home purchase.
This is just one of the ways in which Chinese women have been shut out of arguably the largest accumulation of residential property wealth in history, valued at 3.3 times China's GDP, according to figures from HSBC. That amounted to more than $28 trillion at the end of 2012.
Defenders of the court ruling on marriage argue that women are entitled to compensation for their share of the home payments, but most women do not keep receipts of their contributions. And stay-at-home mothers have even less financial protection in the event of a divorce.
Many women are upset about the change in the Marriage Law, but the authoritarian nature of China's one-party state has prevented a women's rights movement from gaining traction.
"The institution of marriage basically benefits men, and when women are hurt, this institution doesn't protect our rights," a young woman in Beijing recently told me. "The most rational choice is to stay single."
China's marriage market

The hypergamous Chinese
http://www.economist.com/blogs/freeexch ... age-market
ONE of my favourite places to eat in Hong Kong is The Monogamous Chinese. Offering an unusual mix of Beijing and Sichuanese cuisine, it is named after Hongzhi (弘治), the first Chinese emperor to remain faithful to one wife. At some point after the fall of the Qing dynasty, marital fidelity became the norm in China* as it was elsewhere. But China's marriage patterns remain distinctive in other ways. I am still waiting for a rival restaurant to call itself The Hypergamous Chinese in reference to the widespread tendency of Chinese women to marry up.
This habit of hypergamy (ie, marrying a person of higher social station) is documented in a recent Master's thesis by Yue Qian, a PhD candidate at Ohio State University. Although most Chinese newlyweds, like couples everywhere else, are of similar age and education, it is quite common for Chinese women to marry men who are better educated than themselves. As a corollary, men often marry women who are less educated. According to Yue Qian's calculations, 55% of university-educated Chinese men marry a less educated spouse, whereas only 32% of university-educated women do the same.
One well-educated woman, quoted by Mary Kay Magistad in a piece for Public Radio International, explains the equilibrium that results:
"There is an opinion that A quality guys will find B quality women, B quality guys will find C quality women, and C quality men will find D quality women...The people left are A quality women and D quality men."
Hypergamy is one social habit that skews China's marriage market. Misogyny is another. Men famously outnumber women in China, thanks largely to sex-selective abortion. The skewed sex ratio should work in women's favour, raising their bargaining power in the marriage market. In this week's issue of The Economist we discuss some of the lengths that Chinese men will go to in order to attract a bride.
Buying property is one popular way for a man to distinguish himself. A man's ability to provide a home is something that three-quarters of potential brides consider before taking his hand, according to a 2012 survey of young people in some of China's big cities by Horizon Research & Consultancy group, a market-research firm. As a result, the skewed marriage market may also be skewing China's property market. According to a widely-cited study by Shang-Jin Wei of Columbia University, Xiaobo Zhang of IFPRI and Yin Liu of Tsinghua University, the increase in China's sex ratio, and thus the heightened competition for brides, can explain up to 48% of the rise in urban home prices from 2003 to 2009.
But although numbers are on Chinese women's side, time is not. Women's marriage rates drop steeply after they turn 30 (see the chart below adapted from Yue Qian's thesis), something that is much less true for men. One explanation for this is hypergamy of a different kind: older husbands often take younger wives, but older women rarely marry younger men. The odds of a man marrying a younger spouse are almost 50 times as high as the odds of a woman doing so, according to Yue Qian. This "age hypergamy" has uneven effects on women's marital prospects. It improves the chances of younger women even further: they have plenty of men their own age to go around and they can also marry older men as well. But it hurts the chances of older women, who must compete with younger rivals for men their own age.
The upshot is that first marriage rates for young women are much higher than for young men. But unmarried women in their thirties are less likely to marry than thirtysomething men, despite being outnumbered by them (see chart). Women, especially "A-quality" women, who do not marry early often do not marry at all. Indeed, women over 30 who boast a university education have even lower marriages rates than poorly educated, similarly aged men who lack a high-school education.
This "marriage squeeze" impels women to try to marry before they turn 27. The pressure to do so is far greater than the pressure men feel to provide a home, argues Leta Hong Fincher, a PhD student at Tsinghua University. Eventually, the compulsion to marry early outweighs the wish to marry well.
This is some consolation for bachelors struggling in China's unforgiving property market. Ms Hong Fincher once heard someone offer the following piece of candid, albeit cold, advice to young men under pressure from their girlfriend's mother to buy her a home.
"As soon as the daughter turns 26, she enters a time of crisis. By the time the daughter turns 28, this feeling turns to fear and dread. So all you have to do is put off the marriage until your girlfriend reaches age 27 or 28, then your zhang mu niang [mother-in-law] won't be worried anymore."
One of the comments from a "liberated, Chinese American women:"
I think China is a perfect example of a society that devalues and mistreats women (female infanticide, gov't officials and "mistresses", the gender ratio problem) then whines and complains when their little emperor sons can't find a nice girl to take home to mom and dad (who wants to date your spoiled brat?)

Phenomena like "er nai, san nai", marital prejudice against older and well-educated women, female infanticide, and male preference all point to a culture that believes women and girls have little worth or value. Is it any wonder that Chinese women outside of China eagerly date non-Asian men?

In the United States one of the most common complaints heard from Asian men is that Asian women refuse to date Asian men. But maybe if Chinese culture (and other Asian cultures) valued women more, Asian women might change their minds.

As a Chinese American woman I don't date Chinese men for precisely these reasons. Chinese culture men is just plain down sexist. Chinese people expect expect women to do all the housework, take care of the children, and work at a full-time job. But you can't earn more than your husband or he will feel threatened by your success. I have (or, correction, had) Chinese male friends who joke that their wives are "punching bags" (misogyny anyone?)

If you marry a Chinese man you have to deal with not only his sexist attitudes about your role as a wife and mother, you also have to deal with his parents, who have 300 year-old attitudes about your job as their daughter-in-law. In-laws are hard enough to deal with without them thinking your basically chattel that they paid for with a dowry. The dowry may be gone for most modern Chinese, but the slave labor part isn't! I'll be damned if I'm going to clean house and care for the kids all day and then have to deal with Chinese in-laws criticizing me about my mothering and home management skills and whatnot. I'm not alone in saying "I don't need this!" There are so many Asian women who have decided they don't need this! And they don't need to be treated like second class citizens in their own country!

To the smart, attractive, highly-educated Chinese woman over 30: don't worry, if Chinese men aren't interested in marrying you there are about a billion men outside of China who would love a chance to meet you. I know because I'm dating one.
What a bitch! So all Asian men act like that you stupid hag? What a way to stereotype. And plus, she got 12 thumbs up for her post (most likely from White men that loved to see an Asian women attack all Asian men like that). Here's a response back from (of all people) a White male, who rightfully puts her in her place:
You're a disgusting self-hating Asian female. And I'm a White male, btw. I've encountered many Asian females like you, that's why I avoid Asian females who act the way you do. Why do so many Asian females exhibit such hatred towards their own race and men, I will never know...

And I'm suspicious that you're not really a White male behind that post.