The northern parts of Mexico and upper class parts of the big cities will def have the most European/Castizo women. Here's a map of where most Mexican beauty queens come from: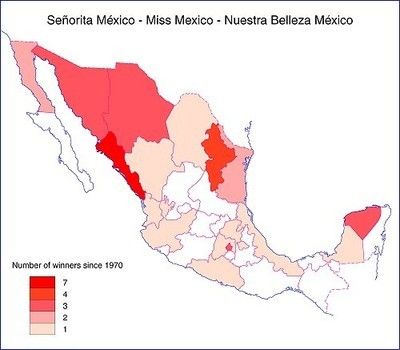 I wouldn't write off southern/more indigenous looking Mexicanas so quickly. I'm currently dating an indomestiza from the South, she definitely has some of the hard indigenous features (big lips, broad face, etc), but she's trim, urbanized, and fashionable with a very youthful/petite/feminine vibe.
I just still get tripped up over identifying who are indomestizos and who are the 100% indios (Zapotec, Mayan, Mixtec, Aztec, Pueblid, etc)?? I've never personally met an 'indio' and the photos I've seen they're wearing non-western clothing with a very traditional appearance and seem to have a dark reddish/bronze complexion that is often kind of coarse looking. Indomestizos are more into the Latina/mestizo spectrum look, smoother skin, lighter to a light brown or well-tanned and with a few other shadows of features from their dose of European genes. Any other ways to identify the phenos of Indomestizas compared to hardcore Indios?