I am tired of those cliché portable music devices and their little earbud minions. Steve Jobs' iPod was such a monumental success because it was every individualistic, anti-social American's ultimate dream gadget. Jobs' genius lies in his ability to figure out what ordinary mainstream Americans REALLY want. And so came the iPod.
In Mexico, most people just blast all that music off their cell phones and boomboxes, out loud. The only people I saw using those iThingies were the "pochos" (Americanized Mexicans) and "fresas" ( preppy upper-class Mexican girls
http://www.urbandictionary.com/define.php?term=fresa
).
Here's a huge pile of articles about "iPod iSolation."
News Articles
iPod isolation
http://seattletimes.nwsource.com/html/businesstechnology/2002904843_ipods02.html
iPod era of personal media choices may be turning us into an iSolation nation
http://www.azcentral.com/arizonarepublic/arizonaliving/articles/0912customize0912.html
The isolation of the iPod people
http://www.timeshighereducation.co.uk/story.asp?storycode=401340
Ipod - Isolation or Independance? (slideshow)
http://www.slideshare.net/remenaz/0750786-ipod-isolation-or-independance-presentation
iPod iSolation
http://www.kansan.com/news/2008/nov/06/ipod_isolation/
iPods banned in Sydney school for breeding "social isolation" (Good for you Aussies!)
http://www.engadget.com/2005/03/22/ipods-banned-in-sydney-school-for-breeding-social-isolation/
Your View: Exercising Isolation
http://samfordcrimson.com/2011/your-view-exercising-isolation/
Hey IPod, Stop Causing Social Isolation!!
http://scepticlife.blogspot.com/2009/02/hey-ipod-stop-causing-social-isolation.html
Individuality or Social Isolation? The Age of Ipod
http://massmedia116.blogspot.com/2009/04/individuality-or-social-isolation-age.html
This article on the Seattle Freeze (
http://seattletimes.nwsource.com/pacificnw/2005/0213/cover.html
) says:
Quote:



Huh? What did you say? At University Zoka coffee shop near the U. Village, socializing means sharing a table with friends but drowning them out with your own personal soundtrack. From left, University of Washington student Nick Hara plugs into his iPod, Perla Josué downloads music on her PowerBook and Fahm Saechao plays "R&B slow jams" on a portable CD player.
Quote:

Even if that one lady who's looking around tried to strike up a conversation with the guy next to her, she'd have a hard time getting his attention. He's corked off the rest of the world with his iPod. Those telltale white earbuds announce: I've got 10,000 songs to render you mute.

"A lot of what people call socializing is really just public isolation," O'Brien says.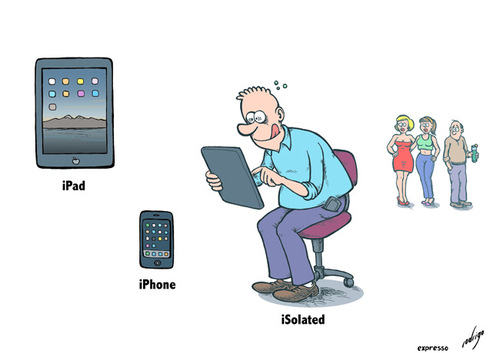 _________________
Catalogue of Falcon's threads and posts