Still in progress

Utopia - Amazon Prime remake for 2020
https://www.youtube.com/embed/lnqq3faJGyQ
Utopia - UK series from 2013
https://www.youtube.com/embed/sU_yUBFmoxg
https://www.youtube.com/embed/nz22hgHCCZM
https://www.bitchute.com/video/WMBFMex6zxHu/
Pfizer and Moderna shots are not by legal or otherwise definition "vaccines". They are molecular medical devices that do nothing to stop transmission of disease. Pfizer and Moderna shots contain no weakened pathogens that cause an immune response. Thus, the Jacobsen case does not technically apply to these experimental treatments.

Moderna does not even refer to its shot as a "vaccine" anywhere on the respective page of its website. In fact, Moderna refers to its shot as a "platform" and "an operating system." According to Moderna, its shot, "is designed so that it can plug and play interchangeably with different programs. In our case, the 'program' or 'app' is our mRNA drug – the unique mRNA sequence that codes for a protein"
Bill Gates insists the vaccines are perfectly safe.

Irish Professor Dolores Cahill on Covid-19 "Vaccine"
UPDATED 2nd April - How many are the vaccines killing?
http://www.vernoncoleman.com/vaccineskilling9.htm
Dr. Andrew Moulden's Tolerance Lost: Part 1 of 3 - "The Problem"
https://www.youtube.com/embed/Re8UI8aCLpM
The late Dr. Andrew Moulden produced a three part series in 2008 called Tolerance Lost. These videos explain the science of vaccine injury.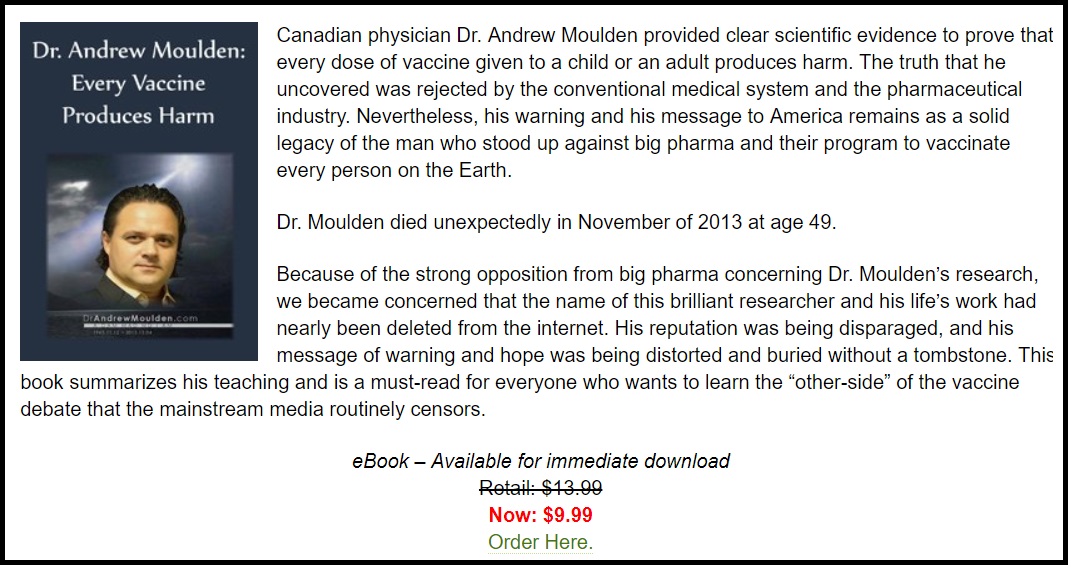 Leaked "FunVax" Religion Vaccine Presentation at the Pentagon from 2005
This is a stunning presentation by a scientist given to DoD officials inside the Pentagon. The scientist describes a plan to control Middle Eastern populations with a vaccine that alters the part of the brain allegedly responsible for human spirituality and religious beliefs. Included is the now-defunct FunVax documentary trailer & a FunVax music video.
PCR inventor: "FAUCI DOESN'T KNOW ANYTHING ABOUT ANYTHING... THOSE GUYS HAVE AN AGENDA"