A few of my Mexican friends have told me that they have noticed a lot more women walking around the streets of Mexico than in the U.S. They said that in the U.S., the streets are "puro varón" (all male), while in Mexico the streets are full of good-looking women. So I decided to do some research for myself.
Here are gender ratios in 10 Mexican states. The ratios are nearly the same as those in many Eastern European countries, such as Poland, Hungary, Moldova, Bulgaria, and so on. (See
http://en.wikipedia.org/wiki/List_of_co ... _sex_ratio
)
No wonder I keep getting flirted with in places like Oaxaca, Guanajuato, and Michoacán.

http://geo-mexico.com/?p=3480
Rank State male-female ratio / female-male ratio
1= Federal District 91.8 108.9
1= Oaxaca 91.8 108.9
3 Puebla 92.1 108.6
4 Guanajuato 92.8 107.8
5 Hidalgo 93.2 107.3
6 Michoacán 93.4 107.1
7 Morelos 93.5 107.0
8= Tlaxcala 93.7 106.7
8= Veracruz 93.7 106.7
10 Querétaro 94.3 106.0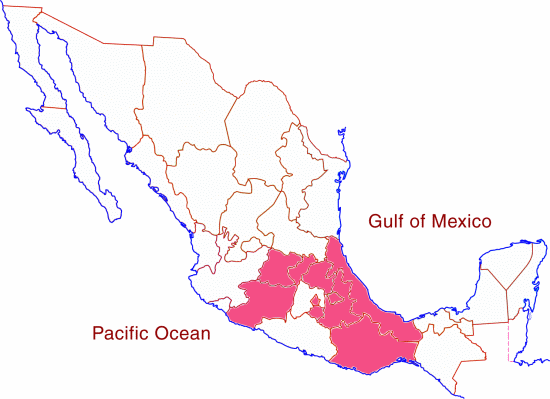 The reason that Mexico City has so many more women than men is because females tend to migrate domestically (within Mexico), while males tend to migrate internationally (to the U.S.).
My girlfriend is from Michoacán, which is the most southwest one that's highlighted in pink. Forum member Colibri is from Morelos, which is the small state just to the south of Mexico City.
Now for male-female ratios:
http://geo-mexico.com/?tag=population&paged=3
Rank State Male-Female ratio
1 Baja California Sur 104.5
2 Quintana Roo 103.3
3 Baja California 101.8
4 Sonora 101.3
5 Nayarit 99.5
6 Nuevo León 99.4
7 Sinaloa 98.9
8 Chihuahua 98.7
9 Coahuila 98.6
10 Colima 98.4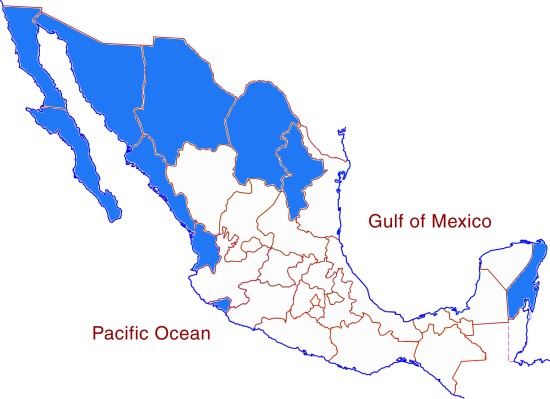 Most of these states actually have even gender ratios.
Only 4 states in Mexico have more men than women, and even then, not by a lot.
(Mexico has a total of 31 states, not including Mexico City. With Mexico City, the number would be 32.)
Here's a labeled map of all the Mexican states: