All people know that Christmas is near. Last Christmas I had try the Cranberry Mousse Pie recipe. So I want to share this recipe with all members. All of you will try it at home. I am sure you will like them a lot.
Ingredients
1 cup cranberry juice
1 (3 ounce) package cranberry flavored Jell-O® mix
1 (16 ounce) can jellied cranberry sauce
2 cups frozen whipped topping, thawed
1 (9 inch) pie shell, baked
Directions
1- In a saucepan over medium heat, bring the cranberry juice to a boil. Remove from heat, add gelatin and stir until dissolved.
2- In a mixing bowl, beat the cranberry sauce for 1 minute. Add gelatin mixture and stir until well mixed. Chill in refrigerator for 2 1/2 hours or until thickened, but not set.
3- Remove from fridge and fold in whipped topping until mixture in thoroughly blended. Spoon into pie shell and chill until firm.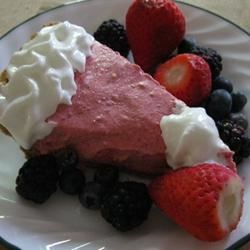 Yesterday I came to finsh the .