Hi all,
If some of you might remember, just before I left Russia in 2005, I met a sweet blonde girl who seemed to genuinely like me and care about me. After three years of failures and flake outs there, I finally found a blonde girl that liked me that I was actually attracted to. (The other 3-4 girls there that seemed to really like me were not my type.) However, I was about to leave and was in a rush to too. It was a classic case of Murphy's Law in my life again, which seems to rule my life and luck. I guess you don't get what you want until you're out of time and on the way out.
Anyway, I've always regretted not staying longer to spend more time with her, or going back for her. Maybe it was a mistake. However, I've learned from romance movies that the most memorable romances are always the short lived ones with tearful goodbyes and partings. That seems to make it more special and precious, than if you stay with her long term or happily ever after.
What do you think? Should I try to contact her and visit her again in Russia?
She did seem to have genuine feelings for me for sure. I could feel them and see them in her gaze. That was a rare thing. And when I read about our parting at the train station in my journals as I was reformatting them recently, it reminded me of how genuine it was and how touched I was at the time. I can still feel it like it's happening right now. It's amazing how we can remember vivid things in the past as though they were happening now. Any of you experience that too?
Here are some photos of us. What vibes do you get from her? Do you think we were compatible?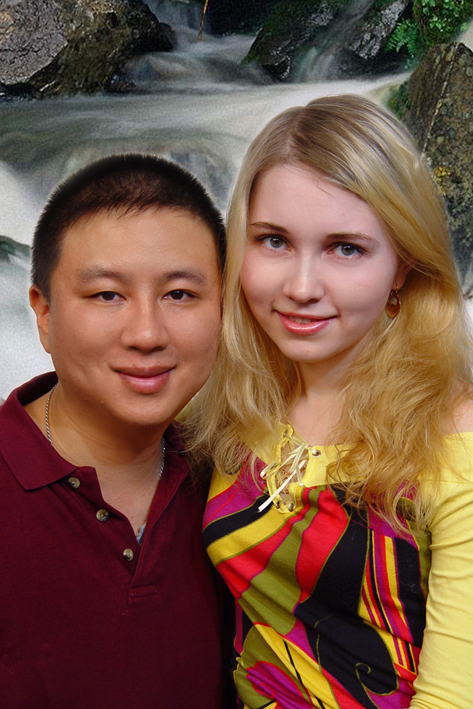 When I got back home after that trip, I wrote this interesting update about what my friend Amber said about the photos of me and Marina:
Now here's some interesting things to share with you all. When I got back to Seattle and my friend Amber picked me up, she told me something she noticed about my photos with Marina and Alina. Although she doesn't think that Marina looks as innocent as I did, she observed that we seem more compatible together, like a better match than with Alina. Here's why. She noticed that in my photos with Alina, I had an expressive outgoing look in my eyes, while Alina had a passive serious look, in contrast to mine. However, with Marina, she also had that expressive outgoing gaze that matched mine. Hence, we look better matched. That's something I didn't notice before, and if you compare the photos, it seems true. That's why I noticed that we seemed to look great together, even though an Asian and blonde together usually looks unnatural.
What do you all think?
I should upload a video of her sometime, so you can see what I mean about her sweet innocent cute demeanor.