Hi mense, I am back after a 4000 km solo trip, almost all of it by dirt roads and remote areas. I did stop and see mates along the wayy Thought you would like to see the pics. I will post each day as a separate post. This post is D-1.
Trip preparation includes
checking over my bike
washing the bike
I used to use tracking software but now you have to login via FaceJew, which i refuse to join, so I made a whatsapp group of fellow bikers who monitor my progress and direction. A lady friend would send me daily weather forecasts (which didn't really change my path much despite her worries about it being dangerous etc. ). So now I just checked in every day when I stopped for the day.
I wear a helmet, buff around my neck to keep dust from going down my neck, synthetic armoured riding jacket (leather is for harley posers. It is hot and weighs a ton when wet), synthetic trousers with knee armour, off road boots with an ankle swivel for walking as over 200 kg of bike landing on your foot will leave you just lying there.
The trip packing includes, tubes, tyre levers, synthetic racing oil, chain lube, a compressor, master link for the chain, chain brush, first aid, clothes, biltong and everything you need for the bike and myself. You need to travel light as weight and space are limited. No firearm on this trip as I was going mostly to an area with no blacks. Just coloureds.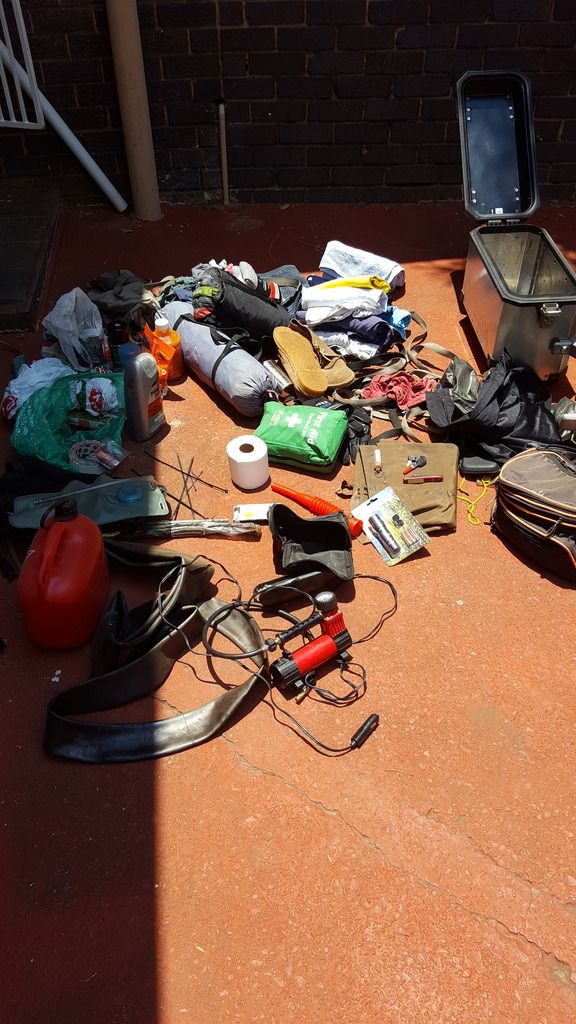 Every thing packs into 2 panniers
Except things I may need on the road like a compressor after deflating tyres for mud and sand, a rain liner, toilet paper (when a man has to go he has to go), biltong, cell phone, charger, ear plugs (a 990 with open throttle can make a lot of noise to listen to all day) etc. go into a tank bag. 2 l of water go in a camelpak on my back and a tent and a jerry can for emergencies on the back rack. Some distances between towns were over 300 km so I needed a jerry can.
After packing I realised all the rivets on 1 pannier had sheared off. All the vibrations, and hammering of hitting ruts and holes at speed. Another reason to travel light.
Nothing to do but drill holes and put in bolts with locktite