Janet Hsieh vs. Winston Wu: Fake Celebrity vs. Intellectual Freethinker

Headlines: Janet Hsieh, Taiwan's fakest celebrity vs. Winston Wu, Taiwan's greatest freethinker. The world of fake airheads meets the world of intellectual freethinkers. LOL
VS.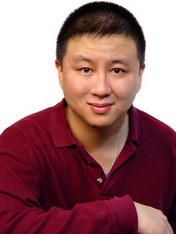 Hi all,
Check this out. I've found a way to get some attention in Taiwan, even if it's in an infamous way, by being the first person ever to criticize and bash Taiwan's top celebrity, Janet Hsieh, in an article and blog in which I also promoted myself in - in effect piggybacking on her fame. haha.
Janet Hsieh is host of the TV series "Fun Taiwan", and her face is on advertisements all over Taiwan, making her one of the most recognized faces in Taiwan. I created a blog and article criticizing her, which was the first of its kind, that has gotten to the top of Google search results for her name. It has now ranked #1 in Google for her name, outranking both Wikipedia's entry on her and Janet Hsieh's own website! (See screenshot below) That's what I get for being an SEO expert. hehe
Now everyone who Googles her name will know about me, so in effect, I've "piggybacked" off her celebrity. Cool huh? It was an awesome publicity ploy. I know I'm a rascal for doing this, but hey at least it helps balance the scales of justice. lol (See the article linked below about that)
This article was historic, as before my critical piece, there were ZERO critical webpages or articles about her. All of them were overly positive and raving about how "oh so wonderful" she is in such a fake airheadish manner. So I was the first person ever to write a critical piece about her on a webpage and blog. So I guess I can add that to my list of "firsts". lol
Here was my initial critical review of her that I posted on Blogger, in which I promoted myself as well:
http://janet-hsieh-sucks.blogspot.com/2 ... aiwan.html
Mirror version on Wordpress:
http://janethsiehsucks.wordpress.com/20 ... anslation/
Mirror version under Happier Abroad:
http://www.happierabroad.com/JanetHsieh.htm
A few days later, Janet Hsieh herself got word of my article and posted the link to my blog about her on her own Facebook page, amazingly. I don't know why. You'd think that as a celebrity, she'd not want to attract attention to this sort of thing. Maybe she wanted her fans to come to her defense?
Janet Hsieh wrote:
"I know I'm just adding fuel to the fire, but this seems to be what Winston wants as he's edited and posted it a couple times now, so here goes. I'll let you read his article and decide for yourself. (It would be nice if he would at least get the name of my show right... it's "Fun Taiwan!" Thanks Winston Wu, "a truly unique and remarkable freethinking Asian American."

http://janet-hsieh-sucks.blogspot.com/

"
Right then, over a hundred of her fans on Facebook came to her defense and bashed me, as you can see here:
To explain why I did this, I posted these articles:
What's wrong with Janet Hsieh? Why did I start this blog?
http://janet-hsieh-sucks.blogspot.com/2 ... did-i.html
The Injustice of Janet Hsieh and the Stupid Media
http://janet-hsieh-sucks.blogspot.com/2 ... tupid.html
My blog about her now appears at the top of Google for her name, and below it, also on the first page, are two other critical articles of mine about her. So in total I've created three hits about her that appear on the first page of Google!
See the screen shot below of Google search results for her name. As you can see, my blog is #1, outranking both Wikipedia's entry on her, and her own website as well!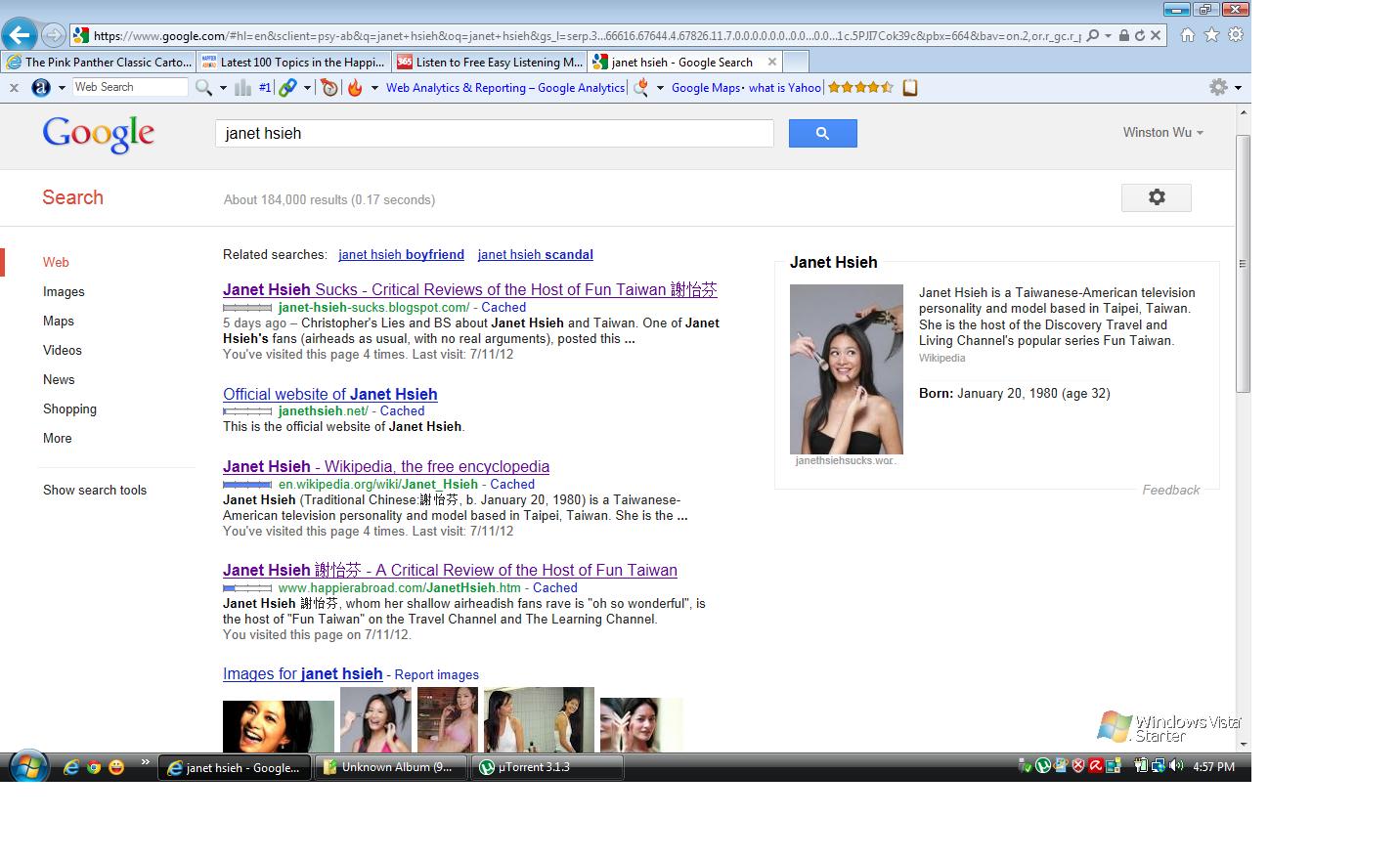 I wonder why the Taiwanese media of Janet Hsieh's production staff haven't contacted me to harass me yet, since I've smeared their top celebrity in Google? lol
I don't know. I guess I love the controversy and publicity. lol Hey, at least it's not boring. lol
To see more critical comments about Janet Hsieh from my blog readers:
http://janet-hsieh-sucks.blogspot.com/2 ... hsieh.html