Back to Happier Abroad Back to SCEPCOP
Winston Wu - About Me Page and Links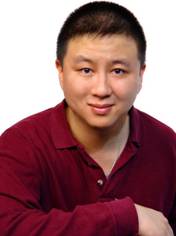 Winston Wu is considered by his fans and friends to be arguably the most Freethinking Asian in the world, and possibly of all-time as well. He is an Asian American Writer, Expat, Traveler, Philosopher, Truth Seeker and Internet Entrepreneur. Born in Taiwan, he emigrated to America when he was 3 years old and grew up in the San Francisco Bay Area. In 2002, he began making trips to Russia and Eastern Europe. Then in 2006, he moved to the Philippines and now spends most of the year in Asia, living between Philippines, China, Thailand and Taiwan. He is founder of two one-of-a-kind movements and successful websites: Happier Abroad and SCEPCOP, and author of several books on Amazon.com.
Winston Wu is unique in a number of ways. He runs two unique online movements that are the first of their kind:
On Happier Abroad, Winston Wu promotes a better life and love overseas for unhappy, lonely, depressed misfits in America, especially men. His overseas solution solves many of life's problems -- particularly those related to dating, social life, and mental health -- and significantly improves one's life in 6 major areas: 1) Dating/Relationships, 2) Social Life/Friendships, 3) Mental Health/Self-Esteem, 4) Lower Cost of Living, 5) Healthier Food, and 6) Personal/Social Freedoms. His message and life story inspires unhappy misfits in America to Discover Friendlier Foreign Women, Authentic Saner People/Cultures, Lower Cost Living, Healthier Food, Social/Personal Freedoms and More! As such, Winston Wu is the only one in the Conspiracy/Truth movement and the New Age movement that has a REAL solution to America's social problems that actually work. Thus he is arguably the most unique and useful person in the movement, a fact which needs to get more publicity so that Americans can know about real options and solutions they have which aren't being publicized. In fact, Mr. Wu is clearly the top expert in the world when it comes to reasons to leave America, for he has written the most reasons to get out of America on one webpage here, along with an mega Ebook about it and many articles on the subject. If one imagines America as a sinking ship like the Titanic, and Wu being the only one urging people to get off the ship, while everyone else assumes that they must stay on the sinking ship and try to save it, Wu's logic becomes so obvious and apparent, that one wonders why everyone else is blind to it. Perhaps Plato's Cave Allegory may explain why.
On SCEPCOP, Winston Wu exposes the fallacies of the organized pseudoskeptic groups and promotes true skepticism, critical thinking, and an unbiased following of evidence and data related to paranormal, mysterious and conspiratorial phenomena. Wu was the first one in 2001 to write a full in-depth treatise debunking the arguments of organized pseudo-skeptics and paranormal debunkers. It was the first of its kind and received praises in the paranormal research community.
Winston Wu is a leading pioneer in the Global Dating Movement and considered the intellectual champion of the movement. He operates one of the largest International Dating Forums in the world (if not the largest) and has been featured in radio interviews and podcasts. Wu is publicly known as an outstanding Freethinker, Champion of Truth, and Debunker of BS Propaganda -- a quality extremely rare among Asians. With a high level of awareness and propensity to think outside the box, he has written many Articles and Books containing bold insights, taboo truths, awakening solutions, wise advice, and politically incorrect but accurate cultural comparisons and observations which other people do not dare make.

Due to the success and popularity of his websites, Mr. Wu makes a living from them via passive income, which allows him the freedom to travel, develop himself, and help others. His dream is to travel the world and have adventures, experiencing the treasures and wonders of the world.

Wu believes that his calling is to help unhappy lonely misfits in America find a better life andd love abroad, and also to liberate and awaken people from fear and enslavement. He lives by the philosophy that new experiences are what enrich and create meaning and special memories in life -- whereas long-term settled routines lead to only time passing by without meaningful lasting memories. As such, he advocates that one should not live in a state of fear consciousness (which many societies condition their citizens into to keep them weak and obedient), but in a state of conscious awareness, so that one can follow their passions and allow new possibilities to come into their life. In this way, one is free to make smart choices from a state of awareness to live the life one truly wants, rather than conform to others' expectations.

Among his passions and interests are: writing, traveling, culture, museums, theatre, the arts, romantic places, instrumental music, classical music, medieval/renaissance music, 80's music, chess, history, philosophy, spirituality, metaphysics, paranormal studies, alternative research and ideas, meeting interesting people, having deep meaningful conversations, hiking, nature, exploring national parks, tennis, ping pong, swimming and martial arts. Mr. Wu currently resides in multiple countries, such as Philipppines, China, Thailand and Taiwan, while traveling and managing his websites and generating passive income online from them. He is having a great time meeting and dating women in several countries, but has not found "the one" yet.

Below are key links to info and content about Winston Wu.

Key Links About Winston Wu

Debunking and Critical Thinking Articles

Books and Ebooks by Winston Wu

Radio/Media Interviews and FAQ?s

(Published Works, Resume, References, Accomplishments, etc.)

Articles and News Stories About Winston Wu

(From third party sources)

References from Third Party Sources

(Character, Credibility, Professional)

Quotes and Praises of Winston Wu

Praises and Testimonials of Winston?s Happier Abroad Movement

Quotes from Fans who call Winston Wu a ?Hero, Inspiration and Legend?

Quotes about Winston Wu being "The Most Unique and Freethinking Asian?

10 Uncommon and Outstanding Things about Winston Wu

Contact Form , Email: Winston@happierabroad.com

Websites and Blogs: Happier Abroad , SCEPCOP , Intellectual Expat