My Russia Video Trilogy Collection
DVD's of my infamous dating adventures and misadventures
in 20 cities of Russia, Ukraine and Eastern Europe!
Over 38 hours of video footage from Russia, Ukraine, and Eastern Europe!
Presented by Winston Wu of HappierAbroad.com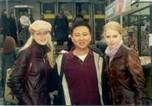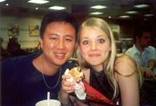 Hello! This is Winston Wu of HappierAbroad.com. My trips to Russia have become infamous among certain circles on the internet, so it is with great pleasure that I offer them in full in exchange for donations to help support my site. All of this is UNREHEARSED and UNSCRIPTED!
In these videos, you will see rich magnificent cultural and architectural sites, gorgeous approachable girls who are sweet and feminine, and many interactions and cold approaches, which will show you firsthand how different and more free the social/dating scene is there compared to America. If you thought women were the same everywhere, this will convince you that that's wrong. You will see how relaxed, open, approachable and non-paranoid foreign females are in comparison to America and conservative cliquish countries. It's a refreshing and astounding difference you have to see to believe, and these videos let you do just that. They will make you feel like you're actually there. It's the closest to firsthand you're gonna get.
You can preview the videos by watching my Female Encounters of the Foreign Kind Video Series and Music Video which contain clips from these videos. To view images from these videos, you may also see my Photojournals, Photo Collage and Dating Abroad Slide Shows.
To read what others said after viewing them, see these electrified responses from viewers. They will inspire you to view what they've seen!
The adventures depicted in these videos were chronicled in journal updates I wrote to my fans. Here are the direct download links to them:
www.happierabroad.com/RussiaJournals2002.doc
www.happierabroad.com/RussiaJournals2003.doc
www.happierabroad.com/RussiaJournals2004.doc
See here for a Synopsis.
Besides internet publicity, I also received coverage from the national media in three countries - Russia, Ukraine, and Lithuania. In October, 2004, after getting into a gang fight, the news story about me went national on NTV in Russia and later in Ukraine too. Soon people everywhere there recognized me when they saw me and I'd say at least 40 percent of the Russian population knew who I was after that. Later on, a feature story about my quest for love in Russia was also done in a national magazine in Lithuania called Antra Puse. You can see a copy of that in my Portfolio here.
Among Russian women daters, I am one of the most well known due to my many passionate but controversial stories and writings. To get a scope of this controversy, see these attacks from my bashers, and these praises from my supporters and fans.
See price list below along with PayPal button.
Shipping is a flat $3 anywhere in the world for any number of videos you buy in a single transaction. As a BONUS, all orders of my Russia DVD videos will now come with a FREE copy of my Travel and Dating Guide to Russia Ebook by email.
Any questions, feel free to email me at WWu777us@yahoo.com.
Thank you for your interest and attention.
Sincerely,
Winston
VIDEO PRICE LIST
Note: Please add $3 shipping to anywhere in the world for any number of videos you buy in a single transaction
Third Trip Videos
Disc one (6 hours from 4 tapes) $10
- Moscow scenes, girls, interactions, outings, museums, parks, etc.
- Unusual long fountain scene with two Russian women that depicts how opportunistic wild Russian women are.
- Awesome gallery of surreal emotional paintings (very original, must see)
- Rostov Veliky, Kremlin, museums
Disc two (6 hours from 4 tapes) $10
- Moscow, Novgorod, Vyborg, St. Petersburg, Cherepovets
- Includes reunion with the infamous Julia and Katya, with an update on their lives
- Includes spicy professional glamour/porn photos of Katya, taken from her own album, showing the hot life she led after our breakup before. And a sexy dance from her afterward.
- Includes the famous Cherepovets assault incident, my own taping of it, and the national news feature story broadcast all over Russia and Ukraine in October 2004
Disc three (6 hours from 4 tapes) $10
- St. Petersburg, Volgograd, Sochi, back to Volgograd
- Izhevsk, Yoshkar-Ola,
- Many video clips of Russian music concerts on TV, featuring the most perfect looking women in the country! Mega eye-candy.
- The new relationship with Alina of Yoshkar-Ola and my three visits to her. Includes an hour of a children's theatre show too. Very cute. And highlights of a live opera ballet.
- My discovery trip of Vilnius, Lithuania.
Disc four (6 hours from 4 tapes) $10
- My return to Lithuania, visiting other parts of the country including Klaipeda and Kaunas.
- My voyage to Poland - Warsaw, Krakow, visit to Auschwitz, Olsztyn, Gdansk.
- The return trip home.
Second Trip Videos
Disc one (4 hours from 2.5 tapes) $10
- Delayed flight to Latvia. Latvia tour, museums and sites.
- Moscow. Disaster date with Natasha of Tula.
- Birthday celebration in Cherepovets with the infamous Julia and Katya. Engagement to Katya on my birthday. Week of partying and nightclubbing to celebrate.
- Moscow. Frisked and milked by fiancee Katya.
Disc two (4 hours from 2.5 tapes) $10
- Izhevsk. Kazan. Various sites, museums and girls.
- Moscow, museum, amusement park. Cherepovets. Novorgorod. St. Petersburg.
- Moscow. Scam, confrontation, and end with Katya and Julia.
Disc three (5 hours from 3.5 tapes) $10
- St. Petersburg, UFO and rocket science museums.
- Back to Latvia.
- Yoshkar-Ola, dating.
- Back to Latvia.
- Volgograd in summer, dating, war monuments, museums, Russian statue of liberty.
- Trip home.
First Trip Videos
One Disc (2 hours 10 min, taken from 2 tapes) $10
- My first tour of Russia/Ukraine. Many girls featured.
- St. Petersburg, museums, sites, monuments. Cherepovets. Moscow. Tula
- In Ukraine, Mariupol, Dnepropetrovsk, Crimea
Photos and images CD – $10 alone, or $5 if you order one of the DVD's
- Over 6,400 images from all 3 trips, seen in my Photo Collage. of interesting people, sweet approachable feminine girls, museums, architecture, discos, and scenery. Very surreal and exotic.
- Includes background wallpaper and postcards of Moscow, St. Petersburg and others, containing surreal scenes, great for setting as wallpaper on your desktop.
- Includes some of my favorite Russian music songs.
- A full 700 MB full of pictures on the CD!